The Chefs Behind One of LA's Hottest Restaurants on How to Make Veggies More Delicious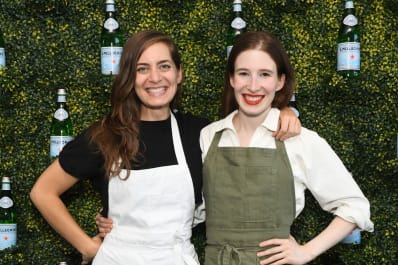 (Image credit: Courtesy of S.Pellegrino)
I didn't eat a ton of vegetables as a kid. Outside of the jarred tomato sauce I put on pasta or the quick-pickled cucumbers that my mom snuck in my lunch box, I was mostly a cheese and carbs kind of girl. I didn't have anything against veggies per se, but I mostly thought they were boring (I blame the sad, lifeless crudité platters that were presented at school functions).
When I started working in restaurants in college, I quickly discovered the error of my ways. Vegetables are delicious — you just need to know what to do with them. Which is why, when I got to interview the chefs behind Kismet during an event for S.Pellegrino which celebrated the launch of the 2018 Taste Guide, I wanted to ask the experts: What ingredients or kitchen tools do you use to make veggies more exciting?
Sara Kramer and Sarah Hymanson opened their vegetable-heavy restaurant Kismet in Los Angeles in January 2017. They also own Madcapra, a small falafel shop at Grand Central Market. Kismet is all about California produce with Middle Eastern flavors. On their menu right now, for example, is a spiced carrot dish with chickpeas, cilantro, and almond broth. There's also fried cauliflower with caper yogurt (gimme, gimme).
"There are a lot of people who don't like vegetables," Kramer explains. "It's our goal in life to convert these people, one vegetable-hater at a time."
The two chefs recommend a couple things to make your veggies more exciting. The first is investing in a grill pan. "I think getting a little char on your vegetables — like whether it be fennel or summer squash or corn or anything – is a really nice way to spruce it up," says Kramer.
Kramer also recommends using lots of raw garlic on your vegetables. "You don't have to smash it or chop it or anything, just a little bit on a microplane – a very fine grain."
Hymanson thinks pickles and spicy condiments are the best way to covert a vegetable-hater. "I'm a big fan of pickled and spicy condiments. Take some simple charred summer squash or romaine or charred cabbage and then cover it with a little raw garlic and some sort of pickled chili condiment on top. Ground chili, chopped-up pickles, and some olive oil, some zest. Easy."
If you don't want to make your own condiments at home, the two chefs recommend a little store in LA called Cookbook, which sells lots of different condiments like salsa verde and romesco. They also suggest going to a local Indian deli and trying stuff out. "[Condiments] like this are great to have on hand if you don't want to work that hard to have delicious-tasting veggies."
Cheese and carbs are great, but vegetables — vegetables! – can be even more exciting, if you give them a chance.