Good to the Grain: 5 Questions for Kim Boyce
We
independently
select these products—if you buy from one of our links, we may earn a commission. All prices were accurate at the time of publishing.
Kim Boyce comes from a long line of female home bakers and cooks. Her mother made Chinese food from scratch in the 70s, her grandmother was constantly pulling something fabulous from the oven. These ladies made honest, 'not fancy' food. Lucky for us Kim caught the baking bug in college, and never looked back. With a recent move from Los Angeles to Portland, Oregon, and Good to the Grain, her first cookbook, out now, Kim has cause for celebration.
Kim developed her love for baking through several means. First and foremost, she was originally drawn to the tactile nature of creating delicious baked goods — the feel of the dough, flours and the physical aspects of creating something wonderful from disparate elements. She also loved baking because of the joy her treats would elicit when giving them away. It was instant gratification and it was fantastic.
After a few nights a week as a pastry assistant at Spago, she quickly fell head over heels for the demanding job and began working there full-time. Her future husband walked through the same doors as a chef, and the rest is history. Kim worked as a pastry chef at Spago and Campanile in Los Angeles for many years before making her big move to Portland, Oregon this past June.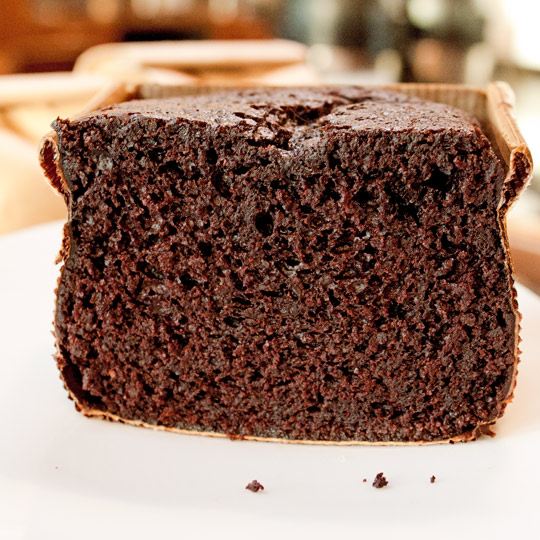 Kim's Chocolate Espresso Cake is a full-force chocolate explosion
The thing that struck me most meeting Kim is her steadfast and uncompromising commitment to both perfect pastry and being a mother. Good to the Grain is a product of this crucial intersection — she bakes as a mom, wanting to feed her family wholesome food. She could not, in good conscience, serve baked goods with high ratios of white flour and sugar. So Kim made changes and reinvented a variety of pastry, pancakes, scones, etc., which are superb in flavor while still retaining a healthy backbone of whole grains. The results are proof of this fabulous combination.
Kim's chocolate-chunk cookies are dotted with whole squares of creamy milk chocolate bars
5 Questions for Kim Boyce
How did having children affect the way you bake?
After having kids, I began to care about the nutritional aspect of food. For years, my focus had been the quality of and the flavor of the ingredients. Once Lola was born, I couldn't, in good conscience, continue to pour all that sugar into a recipe.  My focus began to shift to figuring out how to make a pastry healthier for the kids while maintaining the flavor and structure that I was accustomed to.  
That realization along with a kitchen remodel led me to a bag of Bob's Red Mill 10 grain pancake and waffle mix. That pancake has so much more flavor than I was accustomed to. It was in that moment that whole grains became my next project.
Where do you turn to for inspiration and new ideas?
I like food that is real and honest and thus my inspiration comes from what's around me. That may be a color, an ingredient, a cookbook, the weather, a friend. I find that even though there is that moment of inspiration, it isn't until I'm working on a mindless task, such as peeling a case of apples, or out for a run that the idea fully materializes. Then, of course, it's into the kitchen to see if it really works. Inevitably, my idea shifts as I see how the ingredients interact.
What was the cookbook-writing process like for you?
It was the perfect project at the perfect time. I had been out of a professional kitchen for three years. I was at home with two young daughters and I wasn't sure where I was professionally. Writing the cookbook gave me the opportunity to do what I love best, cooking — yet still be at home with my girls.
At the start of the project, it was a lot of list-making and free association. Then it was into the kitchen to see which ideas actually worked. Many don't and that's when the creativity begins for me. As a pastry chef, I'm very methodical and things have to make sense, both in terms of flavor and method. I love the problem-solving aspect that developing recipes requires. Working through the cookbook was amazing and I thrived having a dedicated schedule and, most importantly, a deadline!
What does a typical day look like for you now?
My day begins at 3:30am when I fire up the ovens for morning bake off. Once everything is out of the oven I pack it up and deliver the pastries to Ristretto Roasters.
Once home, I make a really strong press pot of coffee and slip into mom mode. Kids need breakfast, clothes, love. The older one gets walked to kindergarten and the younger driven over to nursery school.
Then it's back in the kitchen from 10 to 2 to prep batters and doughs. Sometimes my husband, Thomas, and I go out for a bike ride or skip out to a restaurant or a food truck that we haven't been to yet. Then it's back to taking care of the girls, reading stories, taking walks, playing with friends, having dinner together. Once they're off to bed, so am I. Sometimes I'm sleeping before they are.  
How do you like your new home, Portland?
I love Portland. I had been wanting to leave Los Angeles for quite a few years. By the time we got here, I was really ready and found it quite easy to slip into life here. Thomas and I had a very specific vision of what we wanted our life to be like and it seems that we're able to make that happen here.
Moving to a new city also means there's plenty of new adventures: Berry-picking on Sauvie Island or family hikes out at the Colombia Gorge are some of our favorites. We are also constantly surprised and relieved at the sense of community that exists here. The biking adds a whole new dimension to our life and it's one that we are all really getting into. I'm very happy and inspired here.