The Art of Serving Pasta for Dinner, According to Moms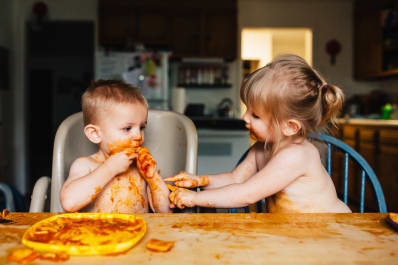 (Image credit: Jessica Byrum/Stocksy)
As a parent, I love pasta more than I ever thought possible. I keep plenty in the pantry and it solves many dinner (and lunch, and occasionally breakfast) dilemmas. Got a picky eater? Pasta. Trying to introduce a new food? Pasta. Just need a dinner that everyone will love so the dinner table is quiet? Pasta!
There is a subtle art to making a pasta dinner that is tasty enough to satisfy grown-ups without alienating tiny diners. (I'm not saying we shouldn't serve kiddos grown-up foods, but smaller palettes are more sensitive to taste, and even the most gregarious eaters can have picky seasons.)
So we asked some of our favorite foodie parents for their best pasta advice, and this is what they had to say about the art of serving pasta for dinner.
How does your family do pasta night?