Book Your Flight to Scandinavia Today & Kids Fly (Almost) Free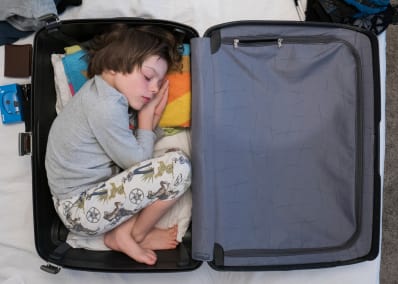 (Image credit: K French / Stocksy)
You already know that October is a really, really good time to go to Europe, partly because no one else is doing it, but also because fall food is the best food —roasted chestnuts, truffles, and cider cakes! — and you can walk around without immediately sweating because it's not 90°F. Also, it's affordable, especially if you are a family with pre-teen kids, and you're considering Scandinavia (which you should because Fika and toast and hygge and IKEA!).
Scandinavian Airlines (SAS) is offering free fares for kids aged 2 to 11 from all U.S. SAS destinations — L.A., San Francisco, Chicago, Boston, New York, Washington, D.C., and Miami — to Scandinavia and Finland. (In actual seats, not on your lap or in a suitcase.)
Well, almost free. Parents are still on the hook for taxes and fees, which, Conde Nast Traveler says are somewhere in the neighborhood of $50 per kid — which isn't 100 percent free, but it's definitely more free than the full fare, which would normally set you back somewhere in the neighborhood of $600 to $1000.
Ready to book? Well, you have to do it today to get this super-special deal, so you'd better be! Seats have to be booked before October 5 (tomorrow!) for travel November 1 through December 19 or January 8 through May 3.
We say ja to Christmas Markets in Gothenburg, snaps in Stockholm, or Michelin-starred meals in Copenhagen.