The One Thing I Always Give My Kids at the Table (It's Not an iPad!)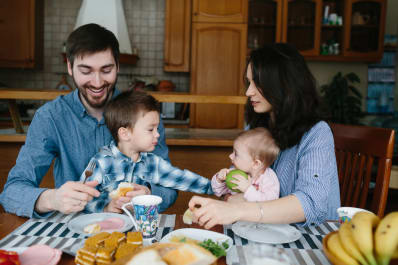 (Image credit: Evgenij Yulkin/Stocksy)
My daughters are 3 and 5. And while breakfast is usually at the kitchen island and lunch is away at school, we make an effort to sit down to dinner every night. When they were younger they would eat dinner really early — before my husband and I even got home from work (we'd start our meal after they were in bed). But now that my girls can hold out until 6:02 p.m. without self-destructing, we make an effort to all sit down together for dinner every night.
This can be tricky. You have to remember who only eats rice with a spoon and who will throw a fit if their veggies touch their grains. You have to employ your best little-kid conversation techniques and not be disappointed if they wolf down dinner (or don't) in about two minutes and spend the next eight minutes standing up in their chairs belting nursery rhymes. Despite all the expectation management that goes into having a pleasant dinner with little kids, there's one thing I always give my kids at the table: cloth napkins.
In this time of our lives, disposable would probably be easier — napkins, plates, cups, the lot — but I hate the waste. And to me, cloth napkins are more than just the eco-friendly option. They're a sign of respect for the effort that went into making dinner, when it would have been easier to just order takeout. They're a sign of respect for the scramble to wrap up work and get into the dining room before the kids start licking the paint off the walls. And hopefully, getting napkins onto their laps will be one building block toward turning these little monsters into polite little kids.
So we set the table and always use cloth napkins. I have a whole collection of them, mostly the solid-color buffet napkins from World Market, in just about every color of the rainbow. And honestly, I think they're handier than paper napkins. If we get through a meal and they're only lightly soiled, they stay on the table for the next night. If someone knocks over a cup of water, we have the napkins right there to sop it up. If a child makes a glorious mess and is covered with food, we wet a napkin and wipe her down. And then the napkins just go in the wash, and back in the drawer for the next meal.
Maybe everyone does this, or no one does it and you all think I'm a glutton for laundry-related punishment. But in my house, it feels like a small thing we can do to give this quick, messy, chaotic — but still special — meal the credit it deserves.
More on Napkins
Do you give your kids cloth napkins when you're having dinner at home? Why or why not?
Kitchn supports our readers with carefully chosen product recommendations to improve life at home. You support us through our independently chosen links, many of which earn us a commission.