Kevin's Spicy Orange Teriyaki Chicken and Shrimp Quick Weeknight Meals Recipe Contest 2009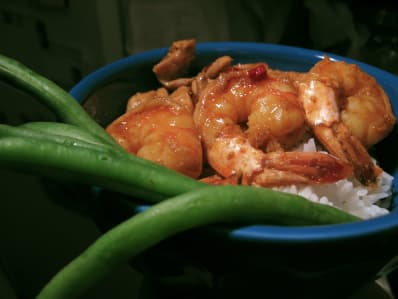 Recipe: Spicy Orange Teriyaki Chicken and Shrimp
How long does it take? 30-45 minutes
Category: Omnivore
Name: Kevin
Why is it a favorite meal? It's quick, full of flavor, and gives you tasty leftovers for the next day's lunch.
Spicy Orange Teriyaki Chicken and Shrimp
Serves 4-6 people (and makes excellent bento box lunches)
Ingredients
4-5 boneless, skinless chicken thighs (~3/4lb.)
20 medium shrimp, shelled and deveined (~3/4lb.)
1.5 Tbsp olive oil
Steamed rice
Your favorite vegetable
Marinade
2 tbsp soy sauce
2 tbsp water
1/2 tsp ground ginger
4 cloves crushed garlic
1/2 a fresh minced chile pepper
1 1/2 tsp sesame oil
1/2 tsp chili powder
squeeze of lemon juice
Sauce
1/2 cup soy sauce
2 cups water
1 tsp ground ginger
5 cloves crushed garlic
1/2 a fresh minced chile pepper (the other half)
1/2 tsp cayenne pepper
7 tbsp packed brown sugar
1/4 tsp white pepper
3 Tbsp mirin
2 Tbsp tapioca starch*
1/4 cup cold water
1/4 tsp fresh orange zest
Begin by mixing the marinade ingredients in a small pourable vessel. Pour half of marinade over chicken and half over shrimp, each in their own small bowl. Stir to mix evenly, and let sit.
Prepare the sauce by putting all ingredients but the starch, cold water and orange zest into a small saucepan. Bring to a low boil over medium heat, stirring occasionally. Reduce heat and let simmer for 5 minutes. Mix a slurry of tapioca starch and cold water. While stirring, stir small portions of slurry into the sauce, until sauce reaches desired thickness. (I usually use about 4tsp worth of starch). Bring off heat, and as sauce cools, stir in orange zest.
The marinating of the meats can easily be done the night before, and the sauce can be made well in advance. If you're a multitasker, the sauce can also be made fresh while cooking the meats.
To cook the meats, heat 1.5 Tbsp oil in a large skillet over medium-high heat. Add chicken to pan and cook until no longer pink and juices begin to boil off. Remove chicken from pan into serving dish, and add shrimp to hot pan, cooking until fully pink. Serve chicken and shrimp over steamed rice with whatever vegetable suits you. I usually use steamed green beans. Pour sauce over meat once added to rice and garnish with sliced scallions or sesame seeds if you wish.
*You can use cornstarch as a substitute if you cannot find tapioca starch. However, tapioca provides a smoother, silkier texture than cornstarch, is freezer stable, and adds less of a flavor to the finished sauce. It can usually be found in even the most basic asian grocery store.
Thanks Kevin, and good luck! Readers, give Kevin a thumbs up if you like this recipe!