You Can Now Make Cocktails with a Keurig Machine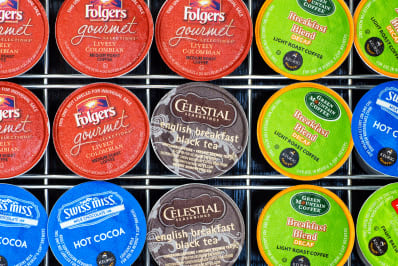 (Image credit: Rob Hainer/Shutterstock)
Keurig, the national machine for office buildings who can't be bothered to buy filters in a timely fashion, has decided to diversify into the cocktail robotics market with the Drinkworks Home Bar. The machine includes a carbonation canister and has pods for cocktails like margaritas, Cosmopolitans, and a few other classic drinks (15 in total).
The cocktail machine is launching exclusively first in St. Louis, Missouri (available to preorder online through Drinkworks' website and a couple of select stores starting November 19), so we haven't gotten to sample the goods. But reports are in that the drinks might actually taste good. Ashley Carman of the Verge says that their Moscow Mule was pretty great, although she notes that the effect may have been heightened since it was served in a copper cup.
Of the margarita, Carman says it basically tastes like a Lime-A-Rita. "So part of me thinks that if you were really determined to host a party with cocktails, you could make a pretty-looking Lime-A-Rita and serve it. It'll cost around $2 at your local corner store, and you won't need a pod or machine to pour it."
Another concern with this machine is the environmental impact. I'm not the biggest fan of appliances like these since the single-use-gadget movement is causing pollution on our planet at an alarming rate. (Like, just buy a French press if you want an easy, individual cup of coffee!)
Drinkworks Old Fashioned takes three separate packages to make. At $15 a pop for two canisters, the carbonation canister can make 15 drinks before needing replacement, which causes even more waste — especially if you're using this machine for its intended effect of party hosting.
At $4 a pop for some drink pods, as well as the $299 price tag of the actual machine, you're probably better off putting that money aside and spending it on bartending classes so you can actually impress your friends.