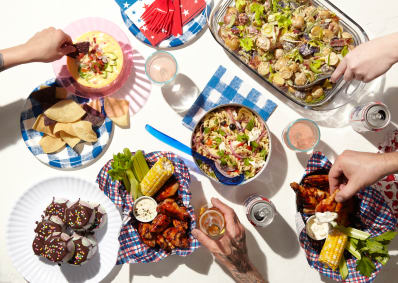 (Image credit: Brie Passano)
There's something about summer that reminds me of food from my junior high days — sipping Capri Suns at the neighborhood pool or riding bicycles to a matinee and eating nachos with neon yellow cheese in the air conditioning. Food was almost always there as backdrop for the moment and rarely the point.
With a similar spirit in mind, we put together a 4th of July menu fueled by nostalgia for that simplicity and ease. Perhaps that memory is clouded by time, but for one day this summer, we're indulging in the revelry and taking advantage of the shortcuts and ingredients that keep us out of the kitchen and at the party instead.
We found that almost everyone craves these classic flavors too. From sweet, sticky wings made even easier with bottled BBQ sauce and the slow cooker, to super-cheesy nachos, to easy ice cream cakes you make in muffin tins, here's what to eat to transport you back to the summers of your junior high and high school glory days.
(Image credit: Brie Passano)
Junior High 4th of July Menu
These five recipes were designed with a nod to the flavors of our '90s nostalgia. Almost everything can be prepared days in advance, finished off before the party, and requires almost no tending to during the party.
Make a Menu People Will Really Enjoy
When planning this party menu, we wanted to include all the classic dishes of a summer cookout in crowd-pleasing flavors. Who doesn't love chips and cheesy dip? Grilled chicken wings get the finger-licking barbecue treatment, and both pasta and potato salads join the party. Mini ice cream cakes with both chocolate wafers and pound cake sweeten the deal. We chose each of the dishes for their mass appeal, and kept the flavors universal.
Don't Forget the Drinks: Bomb Pop Cocktail Pitcher
Purchased Ingredients Deliver on Nostalgia
There is a time and place for that tangy North Carolina BBQ sauce you bought on vacation — and this is not it. Sure, Velveeta is a little low-brow, but it is also the thing queso-lover's dreams are made of. A few other pantry and freezer-friendly foods make this menu easy to shop and prepare for.
Purchased Ingredients
Velveeta: Keeping queso smooth since 1923, this shelf-stable cheese product might be found in the cheese case, but don't forget to check near the bottled dressings as well.
BBQ sauce: Pick a bottle on the sweeter side; the sugar will caramelize when it hits the grill and lead to a crispy, crunchy finish.
Cheez Whiz: Another cheese product — this sauce is a great replacement for mayo on potato salad and doesn't require refrigeration.
Canned artichokes and black olives: You can certainly pick these up from the olive bar at the market, but canned will do just as well in a pasta salad.
Frozen pound cake: Keep frozen pound cake stashed in your freezer for quick desserts all summer. It doesn't take long to thaw, and slices beautifully straight from the fridge.
Do the Work Ahead So You Can Party Too
The ice cream cakes can be made up to two weeks in advance. Make the potato and pasta salads two days before — both taste even better after the flavors mingle. You can also cook the wings the day before, while you finish up the ice cream cakes — just reheat the wings on grill once the party gets going. As for the queso, add everything to the slow cooker before the party and let it bubble away for all-day munching.
3-Day Prep Plan
Day 1: Shop for ingredients and assemble the ice cream cakes.
Day 2: Make the potato and pasta salads.
Day 3: Cook the wings in the slow cooker and top the ice cream cakes.
July 4th: Make the queso, grill the wings, and enjoy the fireworks.
Stylist Credits
Food styling by Barrett Washburne
Blue Gingham Picnic Blanket; Six Piece Storage Container Set; Galvanized Red Star Serving Tray; and Stacking Aqua Acrylic Wine Glasses courtesy of Crate and Barrel