Julia Child's Secret to the Best Vinaigrette Is to Make It Like a Martini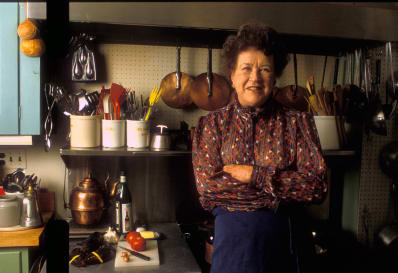 (Image credit: Rick Friedman/Getty Images)
For most of my life, I thought I hated salads, but it turns out I just really don't like most salad dressings. For years I tried to eat salads, only to take a few bites before giving up and leaving an over-dressed mess of goopy leaves on my plate.
With the right dressing, however, salads are one of my favorite things to eat now, and making a dressing that suits my own tastes is extremely easy to do at home.
Many bottled salad dressings are too sweet, salty, thick, cheesy, or any number of other things that might not sit right on a person's individual palate. Also, it's virtually impossible to recreate the tart, fresh tang of a really good lemon vinaigrette in a bottle, but it's a simple thing to do at home and it probably takes less time than washing the lettuce.
Julia Child has a wonderful recipe, of course, and according to Cooking Light's Meghan Overdeep, Child said the key to a good vinaigrette is to treat the dressing like a cocktail.
"... you will so often see proportions of one part vinegar to three parts oil, but that can make a very acid, very vinegary vinaigrette," Child wrote. "I use the proportions of a very dry martini, since you can always add more vinegar or lemon but you can't take it out."
Julia Child liked her martinis pretty dry, apparently, because her recipe calls for between 1/3 and 1/2 cup of extra-virgin olive oil with half a tablespoon of vinegar and half a tablespoon of freshly squeezed lemon juice. An average martini is six or seven parts gin to one part vermouth, while Child's recipe calls for between five and eight parts oil to one part vinegar and lemon juice.
Get the recipe: Julia Child's Basic Vinaigrette
Child's recipe is quite a bit different from the three-to-one oil-to-vinegar ratio most dressing recipes call for, but the whole point of doing it that way is that you can adjust the acid or tartness to your own taste from there. And being able to customize a dressing to be exactly what you like is the best thing about making salad dressing at home.
Child said that with good-quality ingredients, a perfect vinaigrette was so easy to make at home that she didn't see any reason for bottled dressings.
What's your favorite salad dressing?