The Best Episode of The French Chef Teaches You Everything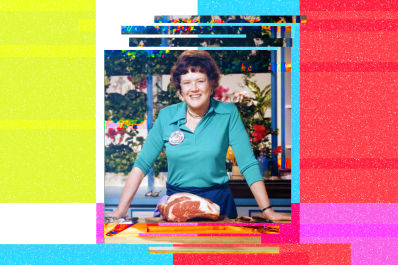 (Image credit: Getty)
Julia Child knows how to kick off an iconic television career. While the first episode of most shows — especially classic shows — highlights its imperfections, the first episode of The French Chef is 30 minutes of soothing perfection.
From the first notes of her jaunty opening song, I'm completely spellbound. She looks into the camera and says "Hello, I'm Julia Child!" and it's funny to imagine a time where her voice didn't spark instant recognition.
Welcome to the very beginning of The French Chef. Your future cooking legend is here, and she brought beef.
The content is strikingly useful and realistic, which frankly would not be my go to words after hearing "boeuf bourguignon." Not only does she offer the viewer an in-depth cooking class, but she also offers expert experience combined with a laissez faire attitude. She covers a pot with a pie tin and shakes salt right out of the canister. The edges are a little frayed because it doesn't need to look perfect. Perfection is for the glossy future, when we can see the colors of all the ingredients, the meticulous bowls, the beautifully lit sets.
Here, in the gentle confines of the best episode of The French Chef ever, you get to see how much substance is there when you take out a lot of the fussy, present-day style.
Learn How to Do ... Everything
I don't have a lot of use in my life for boeuf bourguignon. Or so I thought.
Julia shows us that boeuf bourguignon is the perfect set of cooking skills tucked into one tremendous stew. You'll find out why you need to dry your meat before you brown it, how to tell if your oil is too hot, and that three people at your dinner table translates to six pounds of meat in your main course. There are tricks for peeling onions, and an in-depth lesson on how to judge the freshness of your mushrooms.
---
Julia shows us that boeuf bourguignon is the perfect set of cooking skills tucked into one tremendous stew.
---
She's teaching kitchen intuition, sharing all the extremely subtle moments and minute details that need your attention. To show you how to deglaze a pan, she pours wine and a billow of steam clouds the camera. There's a DIY sweetness to this moment, one that will melt your heart as your hands pat a freshly quartered mushroom with a bone-dry dish towel.
One Recipe = Endless Possibilities
The setup here is so simple. It's not a whole menu — it's just one dish and sides so easy you can figure them out by looking at them: green salad, boiled potatoes with parsley, and French bread.
Yet Julia manages to create this constellation of culinary possibilities by constantly recommending substitutions. She says you can replace olive oil with peanut oil, you can sauté chicken and lamb the same way she's sautéeing the beef. In fact, "Coq au vin is just the same as boeuf bourguignon" and you should feel free to "use any red wine." And while homemade beef stock is nice, she makes a point of saying canned beef broth is nice too. Just don't use consomme because it's too sweet.
That's advice, not judgement. Enjoy your shortcut, just take the right one so you get to the right location: smack dab in front of a steaming casserole of boeuf bourguignon.
Find Your Inspiration in Fear
"You might say oh, this takes four hours to cook, it's impossible! but you don't even have to look at it once it's in the oven, once you've got the preliminaries done," Julia says. She is referring to the dizzying prospect of facing a long recipe, and saying look at that fear! How silly it is. How funny to be scared of a simple stew with so few demands. Take the leap, with life situations and beef stews. The challenge you fear may barely be a challenge.
And when she tests the sauce, she trills "It should be just exactly right at this point. And if it isn't, we're going to make it." It doesn't have to be exactly right, at this point. You're going to make it right. Just get your salt canister and get to work. Bon appetit!