These Outrageous Potatoes Are Joël Robuchon's Legacy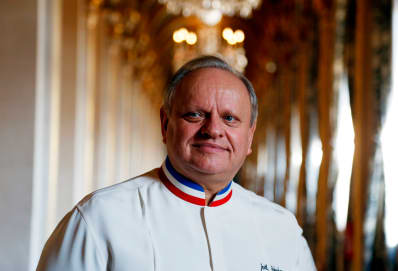 (Image credit: Francois Gulliot/AFP/Getty Images)
The food world just lost another great chef. Legendary French chef Joël Robuchon died this morning at the age of 73, after a long battle with cancer. As restaurant workers and home cooks alike mourn the loss, our thoughts also turn to how we can honor such a legend. And the answer turns out to be simple: Make his food. Joël Robuchon's most famous dish was, quite simply, the best mashed potatoes in the world.
For decades Robuchon was one of the world's most influential chefs, both as a restaurateur and a mentor. He had restaurants all over the world and was awarded more Michelin stars than any chef in history. He also was a mentor to many now-famous chefs, including Eric Ripert and Gordon Ramsay. Ripert called Robuchon the "King of All Chefs," and said he was the most rigorous, precise, and demanding teacher.
Shocked and very sad by the loss of my Mentor Joel Robuchon. The most rigorous,precise,demanding,
ultra gifted King of all Chefs...
RIP Monsieur Robuchon 🙏🕊 pic.twitter.com/RCx8cj5m1I

— Eric Ripert (@ericripert) August 6, 2018
Robuchon was a strong believer in simplicity. He tried to avoid marrying more than three flavors in any one dish, and said the simplest food was the most flavorful and exceptional. This brings us to his world-famous mashed potatoes.
Remembering Robuchon with His Outrageously Delicious Mashed Potatoes
Robuchon's "purée de pomme" exemplifies his work, and highlights his legacy as a chef. With just four ingredients — potatoes, butter, milk, and salt — he created an incredibly rich, luxurious, silky dish that was completely unlike any mashed potatoes the world had seen before. According to The Guardian, critics described eating Robuchon's potatoes as an "emotional" experience.
Robuchon's famous recipe begins by boiling waxy yellow potatoes with their skins still on. Then you peel the potatoes while they were still hot — that's the key to the recipe — and pass the still-warm, peeled potatoes through a food mill on the finest setting. Then you add the potatoes back in the saucepan to be stirred over medium-high heat until steam rises off the bottom of the pan and the potatoes dry a bit and take on a fluffier consistency.
Then you add the butter. Oh, so much butter. The recipe calls for a whole pound of butter to two pounds of potatoes. Don't skimp; you don't get the best mashed potatoes in the world by skimping on butter.
The butter has to be cold and cut into cubes, and you add it to the potatoes in five stages, all while stirring vigorously by hand. Then you whisk the creamy potatoes with warm milk until they're the smoothest, creamiest potatoes you can imagine. All that's left is adding a bit of salt to taste, and you have the kind of potatoes people dream about.
Get the recipe: The Best Mashed Potato Recipe in the World
Robuchon's mashed potatoes only include four ingredients, but the recipe requires intense stirring and care to make those simple ingredients sing. That's who Robuchon was; he was a man who took even the simplest things very seriously, and cared so deeply about what he did that he would work this hard to make mashed potatoes. But as soon as you taste them, you see why it's all worth it.