Joanna Gaines Shares Her Favorite Meal Prep Dinner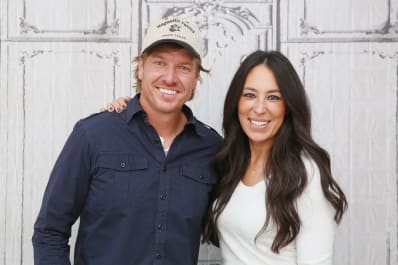 (Image credit: Mireya Acierto/Getty Images)
You might assume that celebrities have meals prepared for them by personal chefs, or don't go to the grocery store like us plebeians, but that's not the case for the Gaines family. Former Fixer Upper star Joanna Gaines recently told Kitchn that she loves shopping at H-E-B in Texas. "You just have a ton of options," she said about the store.
Gaines has also been very vocal about how much she loves meal prep for feeding her family (when she has time). She even went so far as to create a little print-out meal prep planner for people on her blog. So when we sat down with Gaines a couple of weeks ago, we asked her what her favorite meal prep dinner to make for her family is right now.
Joanna Gaines' Favorite Meal Prep Dinner
"I've been making chicken enchiladas a lot lately. No one has complained about it yet," Gaines explained. "I always make the guacamole and the salsa on the side. There's just something about that mixture that's yummy. You've got the casserole, the rice, the beans, and all the chips and dips."
Her recipe for chicken enchiladas can be found in her new cookbook. She uses many grocery store shortcuts to make the recipe, including green enchilada sauce, condensed cream of chicken soup, and rotisserie chicken. It only takes about 20 minutes to prep and 35 minutes to cook.
Buy the cookbook: Magnolia Table: A Collection of Recipes for Gathering, $18
Using rotisserie chicken for this meal is super smart. It cuts down on a lot of time and money you would spend shredding chicken breast. (I also love this trick for making weeknight chicken pot pie.)
If you have a little more time to spare for making dinner, or simply don't like some of the shortcuts Gaines uses for her recipe, check out Kitchn's own recipe for chicken chili enchiladas (using Hatch red chili sauce instead of green).
More Stories About Chip and Joanna Gaines
What's your favorite meal prep dinner right now?