Jake Cohen on Brisket and Hiding the Afikoman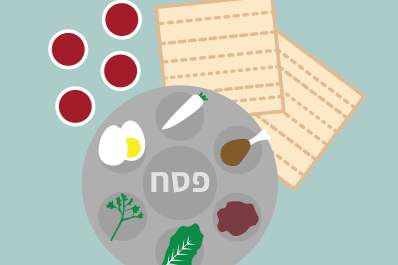 (Image credit: Shany Muchnik/Shutterstock)
Although Passover is largely a holiday centered around the foods you cannot eat, Jake Cohen (the Jake part of the blog Wake and Jake) knows that Seders can — and should — be delicious. This year, he's got an amazing menu planned, which is not surprising considering he studied at the Culinary Institute of America, spent time working the line at Daniel and ABC Kitchen, tested recipes at Saveur magazine, and was most recently the Food Editor at Tasting Table.
Brisket with mushrooms! Cauliflower rice! Beet kubbeh! Persian stew! We couldn't get an invitation to his table, but we did get to chat with Cohen — who calls himself "a nice Jewish boy" — right before the weeklong holiday.
What's one thing you wish everyone knew about Passover?
While we use this holiday to remember the exodus of the Jews from Egypt, there is a much deeper importance to the practice of Passover. The concept of Jews having to flee due to religious persecution stands true to much more recent generations than our biblical ancestors. My family fled Europe during the Holocaust for Cuba, and then Cuba for New York. My husband's family fled Iraq for Iran, and then Iran for the United States and Israel.
This is a holiday that allows us to pause and reflect on the hardships of our people, both past and present, as well as keep our traditions alive. The fact is, we make up only about 0.2 percent of the world's population, so preservation of our history and traditions is so important for future generations of Jews to come.
Passover Seders have evolved beyond the ones our Bubbies used to host. How is your Seder changing?
Now that the more serious stuff is out of the way, I love any excuse to get together with family and friends to eat. This year I'm totally throwing my family in the deep end and co-hosting a Seder blending Ashkenazic and Mizrahic elements to get a taste of the different cultures of myself and my husband.
While the Ashkenazim do not eat rice or legumes on Passover, the Mizrahim do. So we're going to have options for all with Persian rice galore and cauliflower rice for my family who isn't looking to stray from tradition. I'm making a classic family recipe for brisket, Iraqi beet kubbeh, and a to-be-determined Persian stew with help from my husband's aunt.
What's your favorite Passover tradition and why?
I'm all about the progression of the meal. I'm a creature of habit, so a Seder typically goes in the following order: gefilte fish, matzo ball soup, brisket, and dessert. For two nights in a row, I have no issue with the repetition.
Ditto for your favorite Passover food.
Passover is all about the brisket. It's that special-occasion dish that braises for hours and you can literally taste the care and attention that goes into it. While my aunt Susi makes an incredible brisket, I'll be making it this year, adding porcini mushrooms for a little twist.
Related: 7 Tips to Help You Make a Better Brisket
If people are invited to a Seder as a guest, what should they should bring?
Ashkenazi Jews are great at delegating. They'll see a hole in the meal and ask you to bring a starter or a vegetable or a Passover dessert.
What if they tell you not to bring anything?
It's a trap. Don't fall for it. There can never be too much food. Bring a dessert or some wine! Just make sure you check how Kosher the Seder will be.
Some suggestions: 11 Kosher-for-Passover Wines You'll Actually Want to Drink
Got any tricks for finding the Afikoman and winning the prize money?
There were never a ton of kids in my family, so the chances were always higher for myself. I would rip apart everything in hopes of winning a few bucks.
Read more: What Is the Afikoman?
Where do you hide yours?
As a kid, it was almost always behind the couch cushions — and that's where I hide it now.
Pick the best Passover treat: chocolate-covered marshmallows, fruit slices, or coconut macaroons.
Coconut macaroons 4 lyfe. Listen, I could crush a can of Manishevitz macaroons any day. However, they're so easy to make and so delicious! Chewy coconut cookies, sometimes dipped in chocolate ... they're like serving up a tray of Mounds bars, but better. This year I'm adding halva to my macaroons.
Do you have a go-to meal for the first day after Passover (when you can go back to eating whatever you want)?
Bagels. I don't even eat them very often, but not having them as an option makes me crave them even more. I'll be at Sadelle's in New York City for a seafood tower and unlimited bagels as soon as this Pesach comes to an end.
Thank you, Jake! Visit Jake at Wake and Jake and follow him on Instagram.
Kitchn supports our readers with carefully chosen product recommendations to improve life at home. You support us through our independently chosen links, many of which earn us a commission.