Inviting Guests to the Family Dinner Table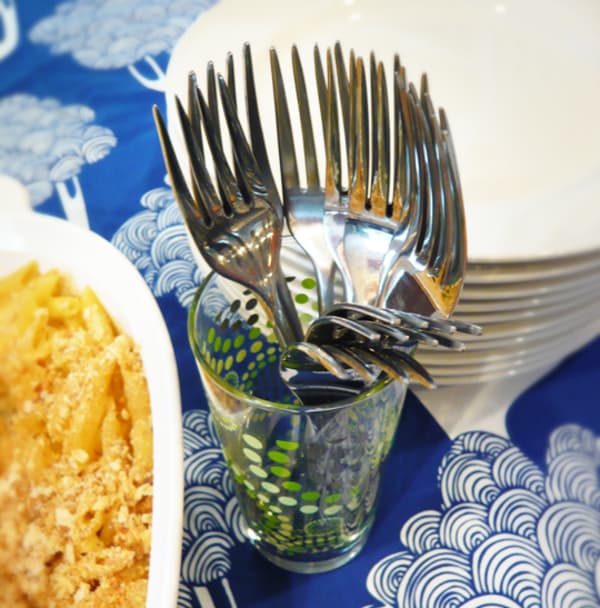 Dinner parties are one of life's great pleasures: the preparation and planning, the first pop of a cork, the mutual enjoyment of new dishes and old favorites, and the conversation around the table that can last into the wee hours. But what if every night is a dinner party and you have to keep it simple? More often than not, we have extra people around our table, usually aunts, uncles, or grandparents, but we're happy to welcome friends, as long as they don't mind eating with children. The meals are simple, served family style, often including recipes from my childhood, and the conversation stays clean. (Little pitchers have big ears and all that.)
When our children were younger, we played a game while we ate. Taking turns, we shared the happiest, saddest, and silliest moments of our day. The simple game was a great way to reconnect. I also hoped it would lead them down the road to being excellent table conversationalists. Every now and then, they ask to play, even when we have guests. They're learning to appreciate other people's words as much as they like hearing themselves talk (I hope).
The dinner table is a place to share stories, preferably funny or pleasant. It is not the place to remind a child of a lost jacket, a missed homework assignment, or an uncleaned room.
My brother and two sisters are the most popular faces at our table; they're there several times a week. At a normal dinner party, a guest might bring a bottle of wine, flowers, or an appetizer. Since this kind of dinner party happens more nights than not in our home, I ask them to bring things we know we always eat — a bag of apples, baby carrots, or a pile of salad greens. I'm the one that's used to cooking for a crowd — we are five on our own — and I love doing it. A few extra portions don't add to my workload, and our guests always help with the dishes.
Though we live in the same town, my siblings and I could go weeks without seeing each other, until we started sharing meals. The children adore having extra time with their aunts and uncles — who are always, always cooler than Mom and Dad — and I enjoy a full table. Knowing guests are coming makes me plan meals in advance, at least by a few hours. Seeing the people I love is my favorite end to a busy day.
How often do you have guests at the table? Do you prefer a lot of notice or do you like to cook on the fly? Do you think children behave better when there are guests for dinner? (I do!)
Related: Ten Ways to Feed 10 People for Less Than $20

(Images: Anne Postic)