Tom's Home Supper Club Space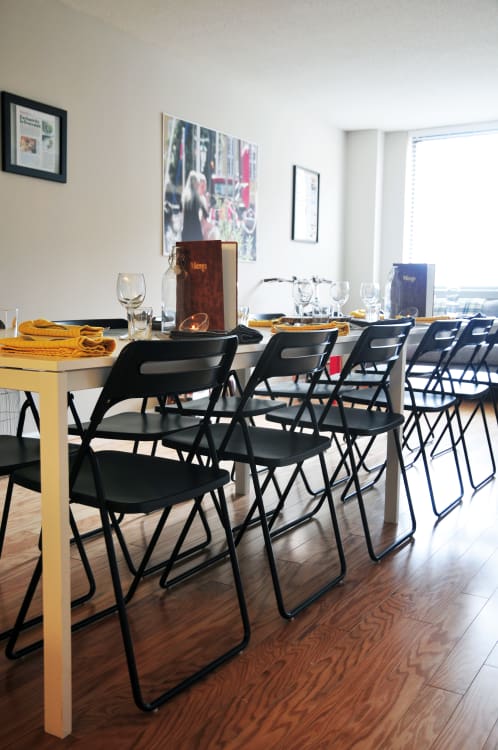 Who cooks & eats here: Tom Madrecki, Creator of Chez Le Commis supper club
Where: Clarendon, Northern Virginia
Size: 850 square feet
Own or Rent: 2 years renting
Considering the recent abundance of food-centric publications with an emphasis on more intimate dining experiences with smaller crowds, Tom Madrecki had the right idea to start an intimate monthly supper club early on. In the cozy dining space that he's carved between his kitchen and living room, he hosts and prepares succulent dishes for friends and strangers alike, all from a modest one bedroom apartment in Northern Virginia.
Looking for a way to further explore his affinity for fresh ingredients and good friends outside of his 9-to-5 working for a Washington lobbyist, Tom created a monthly supper club over a year ago. Not a traditionally trained chef, Tom has apprenticed at the famous Noma and Le Chateaubriand restaurants — and he's brought the sensibility of those establishments to the dishes he crafts in his modest apartment.
Tom's home is essentially made of two work spaces: a well-stocked kitchen with top of the line appliances, and dining room table fit to dine 16 strangers who eventually depart as friends at the end of the evening. For those curious about what to expect during a dining experiences with Tom, he's an incredibly affable person who can put anyone at ease within minutes of meeting him. Guests can see up close just how he prepares each dish, and are free to questions about the preparing a dish in a more up close and personal environment.
The Kitchn Survey
My Style: Scandinavian Minimalism, with a dash of Mid-Century Modern and an emphasis on what I would call a sort of "functionalism." Running a supper club means I need to have a crazy OCD streak, and I need my apartment to work, not just look pretty. I'd also say I occasionally do things just because I want to do something random or bizarre. Entirely self-conscious, ironic hipsterism? Is that a thing?
Favorite Element: Rare or out-of-print cookbooks used as accents. I put them everywhere – on tables, on counters, even on the floor. They're colorful, vivid, artistic expressions.
Biggest Challenge: I live in a brand-new building, in a generic modern apartment. As such, it has all the things you technically want (a washer/dryer, a nice countertop and cabinets) but none of the character you'd get from an older building. And those fluorescent lights! Hideous. So you have to find ways of making it feel more like a home, and less like a Hilton.
What Friends Say: "You live in a restaurant." Which is true — how many other people have communal seating for 16 in their one-bedroom apartment?
Biggest Embarrassment: My bedroom partially serves as overrun storage for my kitchen. It's just an ugly space, and there's no way to hide the fact that I have extra equipment and a 50-pound bag of flour sitting next to my dresser.
Proudest DIY: Before I had a couch, I filled the corner of my living room with this funky "sculptural installation" of artfully stacked tables. It was a big hit with diners. People even took pictures of it, which was endlessly amusing to me because — and let's be real here — there was nothing artful about it. It was a bunch of stacked tables.
Biggest Indulgence: Wine. I have about 200-250 bottles around at any given time, which takes up a lot of space. But the bottles and labels have their own style and I think give a certain feel to the apartment. It's a working, professional space.
Best Advice: You know how George Clooney's character in "Up In The Air" tells people they should be living out of a backpack? I wouldn't go quite so far, but there's no need to keep stuff around for no reason. Invest in fewer, nicer things and minimize the accessories you don't need. It's how I do everything, from my apartment to my cuisine to my vacations. Do it right, or don't do it at all.
Dream Sources: Good ideas don't come from sitting around your apartment all day. New cities, new places, even going through old cities and places – I'm constantly inspired by the places I travel.
Resources of Note:
LIVING ROOM/DINING ROOM
Couch: IKEA Bike - Trek Store
Red Table: IKEA, with an unfinished wood board from Home Depot Large table used to serve guests
Tabletop: IKEA, Crate and Barrel, Macy's, CB2, IKEA
Artwork: Taken myself — it's a photo from my time in Copenhagen, then printed on foam board
Shelf: Crate and Barrel Outlet
Apron: Hedley and Bennett
Black and White Pillow: IKEA
KITCHEN
Barstools: Target
Black rolling table: CB2
Mirror: IKEA

Thank you so much for letting us peek into your kitchen!
Share your own kitchen renovation or improvement!
We're always looking for real kitchens from real cooks.
Show us your kitchen here!
(Images: Nicole Crowder)