This Baker Dance-Off Is the Best Thing You'll See Today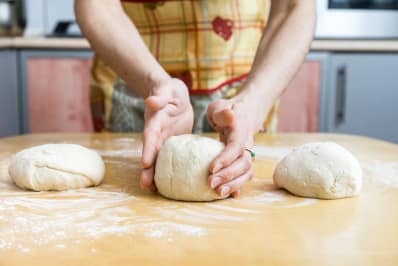 (Image credit: Flexey/Shutterstock)
Working from home has a ton of benefits, like being able to listen to show tunes all day and never having to wear pants, but there is one major drawback to the remote office: never being able to participate in my new favorite internet meme, the workplace dance-off.
The various casts of Hamilton have all been challenging each other to Instagram dance-offs lately, and of course the office dance-off is amazing when literally everyone involved is a professional dancer. But now even the bakers of the world are getting in on it, and it makes working in a bakery look like the best thing ever.
Miami's famed Zak the Baker posted an all-bakery dance video to Instagram this week, and the entire staff really brought it. Moves were busted. Flour was thrown. Grooves were felt. I was not expecting a bakery to have choreography, but these bakers have moves.
Read more: How Miami's Bread King, Zak the Baker, Starts His Day
"Dear @SisterPieDetroit, you challenged the wrong bakery to a dance off. Bring it!!" Zak the Baker wrote on Instagram.
They didn't even take off their beard nets before getting down, and I can't stop laughing. Who needs a smoke machine when you have that much flour? This just looks like the most fun anyone has ever had at work.
The video of the twerking bakers has been viewed more than 159,000 times, and everyone loves it.
"This is giving me all kinds of joy. That's a mighty twerk you've got going on," one commenter wrote.
"What fun place to work!" another gushed.
Detroit's Sister Pie started it off with a dance break of their own to Gloria Estefan and Miami Sound Machine's "Conga."
The main lesson I've taken from this is that bakers like to dance, and that I need to find a dancing bakery to hire me right away.
If you were challenged to a dance-off, what song would you dance to?