Inside the Kitchen Cure: De-Cluttering and Re-Organizing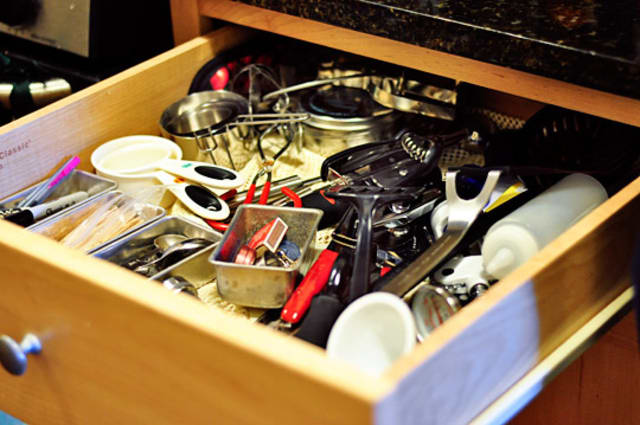 Obviously, I haven't made much progress with this junk drawer since I posted about it a good seven months ago. But we're all about cleaning out unused tools and reorganizing as part of the Kitchen Cure this week, so I think it's time to give this drawer some serious attention.
First things first, I emptied everything out of the drawer and sorted it into the three stacks that Sara Kate recommends: things I use all the time, things I use only occasionally, and things I never use. The things I use all the time would go back in this drawer, and the things I never use I put in a "Use It or Lose It" box. The occasional use things that I knew I want to keep got put in their own box and stowed in the cupboard over the fridge.
Back to the junk drawer. My problem with this drawer is not so much the things that are in it, but how to keep it all from becoming a jumbled mess that I have to sift through every time I need my instant-read thermometer. The suggestions I gave back in my "junk drawer" post are still really good ideas, but right now I needed a temporary solution until I can get to the store for some separating containers. (On my to-do list, I promise.)
I have four metal tins that my mother originally used for individual mini-meatloaves, but which I have been using to store small things like measuring spoons and toothpicks. These work great, but tend to slide all over the drawer despite putting a non-slip mat underneath. As a solution, I took an adjustable curtain rod that wasn't being used and set this across the drawer as a brace. It holds in the metal tins and keeps them from sliding into the drawer. I'm giving myself a pat on the back for that one.
To help keep the rest of the drawer organized, I used a drain tray that a friend had given us when we moved in. The tray has a slight edge and a non-slip rubber surface, so I'm using it to hold the smaller utensils like vegetable peelers and corkscrews. In the space left behind, I am keeping all my larger tools - off-set spatulas, soup ladles, and large slotted spoons.
I'm hoping that this set-up will at least do a better job of keeping things spread out and visible instead of bunched in one big mass. I definitely still want to find some trays or containers that I can fit in this drawer for better organization in the long-term.
As for the de-cluttering the rest of the kitchen, I'm a little lucky because my husband and I went through a major move not too long ago and pared down our belongings quite a bit. Still, I found several things hiding away in the backs of cupboards that I think I can finally get rid of - a third strainer I never use, a hand-cranked pasta-machine that I've replaced with a KitchenAid attachment, and a few other odds and ends. I plan to give these a good home with friends or donate them.
How is your de-cluttering operation going?
Related: How to Control Plastic Container Clutter
(Images: Emma Christensen)