Inés' Opened-Up Barcelona Kitchen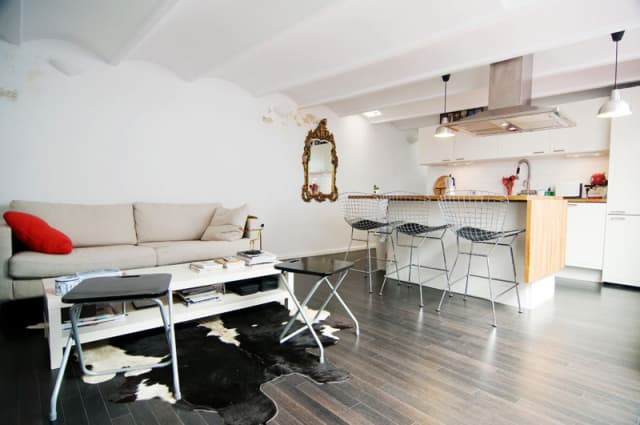 Who cooks here? Inés and her boyfriend Tian
Location: Barcelona, Catalunya
Owned or rented? Owned
Kitchen size: 112 square feet
What challenge have you overcome in your kitchen?
The kitchen island! It has a wing on the side that can open up to acommodate two more people, but when closed leaves free the way to the fridge and makes it easy to move around the kitchen.
Give Inés a THUMBS UP if you think this kitchen belongs in the finals!
Thumbs Up Voting is only activated for 48 Hours — so don't delay!
What's the story of your kitchen?
When I bought my house it had no kitchen, no bathroom, no anything so I had to imagine how it would be since the very beginning and so my kitchen is my budget approach to the perfect kitchen of my dreams.
What is your favorite meal to cook here?
I love to cook red beans and chickpeas in the winter, pasta all year round, green fresh salads in the summer... well, I'm basque, i just love to cook! ;)