25 of the Coolest Gifts from Independent Shops and Makers We Love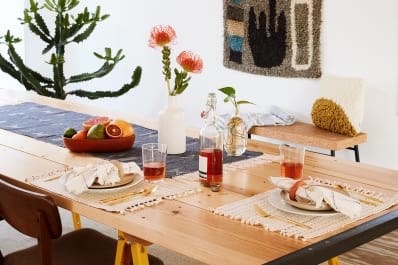 (Image credit: Photographer: George Underwood; Stylist: Katie James)
As the Lifestyle Director for Kitchn (and previously, a Market Editor for various national food magazines), I spend most of my summers going from holiday preview to holiday preview. In June, July, and August stores like Target, MoMA, and Williams Sonoma hold events for the media to come and see all the fun products that will hit shelves in time for the holiday season. August is also when I make the trek to the Javits Center for a giant gift show. And I spend a decent amount of time meeting with smaller websites and stores, too.
Sometimes it's the stuff from these smaller shops and makers that I love the most. I'm talking about handcrafted goodies or cute finds that are simply just not mass produced. They're usually the sorts of gifts that top my wish list, so this year I wanted to round them all up in one place.
These are the 25 gifts from independent shops and makers that I'm coveting this season.
How smart is this weeknight dinner spice kit? I love that the single-origin spices are surprising (read: not boring) but still totally easy to incorporate into a normal weeknight meal. The Black Urfa Chili can go in stews or on top of scrambled eggs, the Cured Sumac brightens up roasted veggies, and the Smoked Pimentón Paprika belongs on chicken. A few of us on staff met with a co-founder of the company and were blown away by his passion, hard work, and knowledge of the spice world.
I'm buying this adorable sidewalk chalk set for all of my friends who have kids. Each kit comes with two yellow chalks and two orange chalks — and each chalk is decorated with toppings and a glitter-y crust.
As someone who drinks multiple LaCroix cans a day, I'm tempted to buy these for myself. But I will wait in the hopes that one of my friends sees this story and buys them for me. (Hint hint, Arie!)
If you know someone who loves waffles as much as Leslie Knope (yes, I know Parks and Recreation ended years ago), this is the gift for them. It can be used as a trivet for hot dishes, a spoon rest near the oven, or even a catch-all tray in a bedroom.
Better than a journal and a recipe book, this Taco Passport will help your friends keep track of every taqueria they visit in 2019. It's got 48 pages with space for fill-in-the-blank info on various tacos eaten.
Meghan Splawn, one of our associate food editors, turned me onto this stuff and we figured you guys needed to know about it too. Made with organic fair-trade coffee and organic caramel flavoring, this tastes like Starbucks in chocolate bar form. Plus, each purchase helps empower women in the U.S to move from dependency to self-sufficiency.
Kitchen staffers have been raving about these dates even before they made Oprah's O List in August. "They freeze well, so it's definitely a nice gift," says Sheela Prakash, our assistant food editor.
For those of us who are hoping to be more crafty in 2019, this fruity monthly calendar teaches four simple embroidery stitches. I love an interactive calendar that goes beyond a new word or a fun-but-useless fact.
Our Managing Editor, Lauren Kodiak, is totally obsessed with all the pottery from Lail, made by a couple in Upstate New York. This pitcher holds about 3/4 of a gallon and comes in five fun colors. Warning: I'm told the Blush will be phased out after the holidays, so timing is running out if you prefer pink!
Made out of recycled materials, this storage jar features tiny pieces of inlaid glass for a terrazzo-like effect. I'm thinking it could hold the random odds and ends that are about to get evicted from my junk drawer.
Little trays like these can be used for, yes, serving breakfast — but also to corral related stuff on a counter. One can hold dish soap, a sponge, and a scrubber; another can hold olive oils and frequently used seasonings. And so on!
There's just something about the simplicity of this bottle stopper that really works. I can see it sitting on an art deco bar cart, a rustic one, or one that's super modern. Pick from antique brass or antique silver.
I realize this fruit bowl is slightly flawed (because you can't put smaller stuff — like lemons — in it), but I still love it nonetheless. Each bowl is handmade and slightly unique, "just like the homes they're made to live in." Isn't that a nice sentiment?
14. Simple Carafe, $68 at Pigeon Toe Ceramics
This bottle-shaped porcelain carafe can be used to hold wine, water, or flowers. The inside has a glossy glaze, so it's super easy to clean; the hardest part is just picking a color (it comes in nine different gorgeous hues).
These cocktail picks don't come cheap, but that's because they're turned from a solid rod of steel. Get these for a cocktail-drinker who appreciates fine craftsmanship.
I shared pictures of this bowl with the Kitchn team during a little show-and-tell-style meeting and heard gasps from all around. Have you ever seen a prettier way to get your lunch to work? Confession: I work from home most days and still make my lunch in this guy. It's ceramic with a silicone protective casing — and oh-so gorgeous.
Say bye-bye to your ugly collection of foil and plastic wrap boxes. These wood-grained beauties are so pretty, you won't mind leaving them out on the counter.
I collect dip bowls the way other people collect bottles of wine or cheese knives. Why? Because they're beautiful and actually useful. I use dip bowls when I'm cooking, for nuts and little coffee table snacks, for condiments, etc! These are total lookers and very reasonably priced.
A neutral tablecloth or runner always makes a good gift. This cotton version reminds me of my favorite chambray button-down (pretty darn neutral!) and still has a little bit of flare to make it feel special and different.
Slightly retro and slightly modern, this enamelware dome features a leather handle and a solid ash stepped base. I have many cheese plates and I still want this one, so I'm guessing any cheese-lover in your life will feel the same.
21. SAO Pot, from $8 at Pigment
I went to San Diego a few months ago and visited this shop. I loved this planter so much, I flew home with it on my lap like it was a newborn baby. It's a cool, updated version of a terracotta planter and comes in two sizes, both of which are perfect for growing herbs in the kitchen.
22. The Duo, $74 for two at Brightland
Good olive is one of those things that people never think to buy themselves (they just get whatever's at the grocery store). Spoil someone with this set. Not only is it wonderfully packaged, but it's also some of the best we've tasted.
Related: Aishwarya Iyer Wants to Change the Way You Think About Olive Oil
Pour over coffee couldn't be hotter these days (pun intended!), and this borosilicate glass device is the prettiest one I've ever seen. In addition to this amber color, it also comes in clear and a smoky gray.
Areaware is one of my favorite little Brooklyn-based companies. Perhaps you'll recognize them from their coasters or bent-nail bottle opener? They just came out with these cute little puzzles — in broccoli, hot dogs, cake, and more — and I want to get a few to bring to Christmas Eve at my in-laws' house.
25. Damien Tray, $50 at Untitled Co
Inspired by the work of artist Damien Hirst, this ambrosia maple tray is meant to be used as a catch-all holder or to serve little nibbles. Get this for anyone who likes to entertain or prefers to graze on a few snacks over having a full-fledged dinner.
Kitchn supports our readers with carefully chosen product recommendations to improve life at home. You support us through our independently chosen links, many of which earn us a commission.