Ina Garten's Go-To Outdoor Party Tool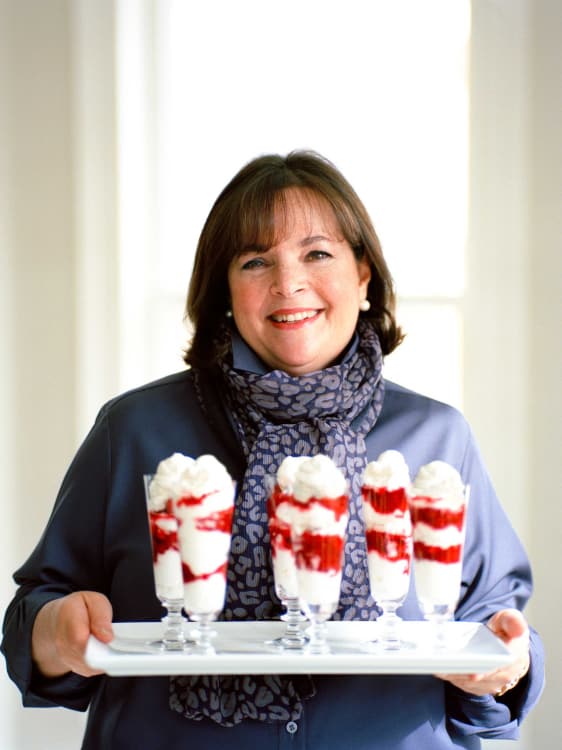 (Image credit: Quentin Bacon)
I've learned a lot from Ina Garten over the years. No, we're not close friends (I wish!), but her cookbooks and TV shows are filled with little nuggets of brilliance that I happily work into my own kitchen. Whether it's sage cooking wisdom or ways to make date night a little more special, Ina has all the answers.
Now that summer is here and patio season has commenced, my questions mostly revolve around outdoor entertaining. Specifically, what's the secret to hosting al fresco without breaking a sweat? Turns out, all you need is a good tray. (Or two!)
After watching countless Barefoot Contessa episodes, I've noticed a pattern: Ina always effortlessly glides out from her kitchen to the patio carrying food and drinks on a large tray. So simple, right? But it makes perfect sense.
Instead of making multiple trips, which is inefficient and cuts into your time with guests, it's way easier to bring everything out on a tray at once. Plus, it makes for a more elegant presentation. (Ooh, a tray! So fancy!) It also relieves your guests from wondering if they should help you carry out those mini-ramekins of crème brûlée they saw sitting on the counter inside. With a tray, you've got it covered! Your friends can just sit back and relax.
Whether you're carrying out ingredients to put on the grill or fully assembled dishes that you made ahead of time (like those aforementioned crème brûlées), a large tray will certainly come in handy if you're planning on doing some outdoor entertaining this summer.
As a bonus, a tray also helps with cleanup! After everyone has gone home, happy and full, you can just stack dirty dishes on the tray and bring them inside. But don't worry about washing them until tomorrow — you've already done enough today.
Kitchn supports our readers with carefully chosen product recommendations to improve life at home. You support us through our independently chosen links, many of which earn us a commission.