Ina Garten Shares Her Favorite 30-Minute Weeknight Dinner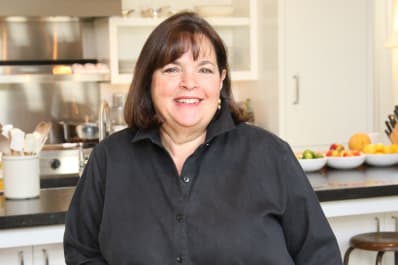 (Image credit: Talaya Centeno/Penske Media/REX/Shutterstock)
Ina Garten just revealed her favorite weeknight dinner, and I know what I'm doing tonight.
The new season of Barefoot Contessa: Cook Like a Pro debuted this weekend, and according to Food & Wine, in the first episode Ina said the Parmesan chicken, from her Barefoot Contessa Family Style cookbook, is her favorite, 30-minute weeknight dinner.
The 30-minute weeknight dinner is the ultimate goal of family cooking, and this one involves boneless, skinless chicken breasts. I have those in my freezer right now, and every time I open the drawer I give them a little side-eye, like, "Ugh, chicken breasts. I see you down there. But why aren't you something more delicious, like chicken thighs? Or cheesecake?"
But Ina has never led me astray with a recipe in my entire life, and if she says to use boneless, skinless chicken breasts, I'll thaw them out right now.
Ina's Parmesan chicken recipe involves pounding the chicken breasts nearly flat, dredging them in flour, then beaten eggs, and finally breadcrumbs mixed with Parmesan cheese. Then they're just sautéed lightly in butter and olive oil for a few minutes on each side.
Get the recipe: Parmesan Chicken from Barefoot Contessa
Ina said she makes her own breadcrumbs from leftover bread, but "leftover bread" — like "leftover wine" — is a concept that doesn't really exist in my house, so I'm just going to use the box of breadcrumbs I keep in the pantry. ("Store-bought is fine" is going to be my next tattoo.)
I know I tend to get excitable about recipes, especially when Ina Garten is involved, but this is the type of super-easy weeknight recipe that legends are made of. It looks delicious in Ina's photos, and sounds like it really would take half an hour from start to finish. I'll never side-eye my frozen chicken breasts again. And if I tidied up the plates of flour and breadcrumbs while the chicken breasts sautéed, the kitchen would actually be clean when dinner was ready. That's the dream, anyway.
Ina serves the Parmesan chicken with salad greens lightly dressed in lemon vinaigrette dressing, which is just lemon juice, olive oil, salt, and pepper whisked together. It's simple and delicate and tastes so much better than bottled dressing, and it barely takes more time to make than it would take to open a bottle.
Ina says the new season of Barefoot Contessa: Cook Like a Pro is about going back to basics, and highlighting special techniques and ingredients that make cooking less of a bother. If she's already starting off this well, I can't wait to see where she goes in the rest of the season.
What do you think of Ina's favorite weeknight dinner?