Ina Garten's Tips for How to Host Your Best Thanksgiving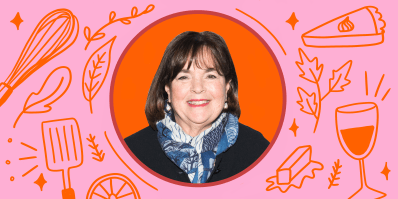 (Image credit: Design: Kitchn; Headshot: Noam Galai/Getty Images)
Ina Garten has given us so many cooking and entertaining tips throughout the years that we could fill an entire book with them (well, if she hadn't beat us to it!). But I would argue that an entire chapter deserves to be dedicated to Queen Ina's favorite holiday: Thanksgiving.
On what for many of us is the busiest day of the year in our kitchens, Ina always manages to pull off the festive feast with ease. So we gathered her best Thanksgiving tips — from the turkey to the table settings — to help us do just that.
1. To keep mashed potatoes creamy, add a splash of warm milk just before serving.
There's nothing worse than a lump of cold mashed potatoes plopped on your Thanksgiving plate. If you made them in advance, Ina suggests stirring in some warmed milk to ensure they're creamy and luscious when they hit the table. Ina's other secret to all-star mashed potatoes? Add sour cream for a subtle tangy flavor.
2. Make your vinaigrette directly in the salad bowl.
And then pile the greens on top, but don't toss until just before serving! This smart technique lets you prep your salad in advance, but keeps the lettuce from getting soggy. Plus, it cuts down on dirty dishes.
3. Prep a good portion of the meal ahead of time.
"I try and gear the menu towards things that you can mostly do in advance, like blanching the green beans," Ina recently told Bon Appetit. We suggest making her lemon-y gremolata ahead of time, too, so that come Turkey Day you simply have to warm up the blanched beans and toss the two together.
4. Skip the stress of carving the turkey in front of guests.
Dreading the moment when everyone gathers around the carving board? Make like Ina and eliminate it all together. "I put a big puddle of Make Ahead Turkey Gravy on an ovenproof platter, slice the turkey on top (long before the guests arrive!) and reheat the whole thing before dinner," Ina writes on her website.
5. And speaking of turkey, don't bother with the deep-frying trend.
Although Ina gives a thumbs up to avocado toast and cauliflower rice, the deep-fried turkey trend does not get her approval. "Nobody wants a trip to the hospital," she told TIME."It's dangerous. You're dealing with a huge cauldron of hot fat, and you're lowering this turkey into it. Just put it in the oven." (And before you do, rub a little truffle butter under the skin.)
6. If you're worried about soggy stuffing, try a savory bread pudding instead.
"This [Herb and Apple Bread Pudding] is moist and crusty, which is so good," Ina told InStyle. And our Swiss Chard and Sausage Bread Pudding has Thanksgiving side dish written all over it.
7. No matter where you're hosting, don't stray too far from the classic dishes.
Thinking about branching out and serving something completely out of the box? Ina cautions against it: "In my experience, guests are always a little bit disappointed when they don't see their favorite dishes on the table!"
(Image credit: Photo: Joe Lingeman; Prop Styling: Helen Quinn | Kitchn)
8. Don't get too fancy with the table setting.
Pick one element — like the dinner plates — to focus on, then keep the rest to a minimum. "It doesn't have to be fancy, but at this time of year I like a little color and one pretty plate to give the setting some style," she says. If you're inspired by Ina's simplistic style, we've rounded up everything you need to set a table just like hers.