Ina Garten's Top 10 Thanksgiving Recipes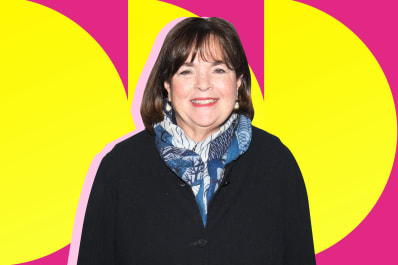 (Image credit: Design: Kitchn; Headshot: Noam Galai/Getty Images)
For those of you looking for a one-stop shop for all the recipes to include on your Thanksgiving table, look no further than this roundup of Ina Garten's 10 most popular Turkey Day recipes. Our food team even gave a few of them a test drive, and SPOILER ALERT: Not a single recipe disappoints. It's what we've come to expect from Ina, but a reminder every now and then can't hurt.
So without any further ado, here's a list of the best Ina Thanksgiving recipes — and why you should make them.
If Ina's roast turkey is anything like her roast chicken, it's the stuff of legends. Her Thanksgiving bird is seasoned liberally (of course) with salt and pepper; stuffed with thyme, halved lemons, quartered onions, and garlic; and then brushed with a dreamy, zesty, herby butter mixture. We tested out the recipe ourselves, and it delivered on all its promises.
Read more: I Tried Ina Garten's Perfect Roast Turkey (and Brine)
This Thanksgiving spread essential is next-level, thanks to an entire stick of butter, yummy sourdough bread cubes, diced Granny Smith apples, and Italian sausage. Make your life a little easier and make it ahead.
We are officially riding the Ina Garten gravy train. Her secret ingredients? Cognac and white wine — and of course onions, butter, flour, turkey drippings, and chicken stock. I can't wait to pour this into my mashed potato volcano.
Speaking of mashed potato volcanoes, there's no one that makes 'em better than Ina. They're luscious, rich, and have a hint of tang, thanks to the addition of sour cream. Our Associate Food Editor Kelli Foster tested out the recipe and rated it a 10 out of 10. She said "If I could eat just one mashed potato recipe for the rest of my life, it would be Ina's."
Read more: I Tried Ina Garten's Classic Mashed Potatoes
It's pretty much impossible to cook an entire Thanksgiving spread in just one day, so consider lightening your load and preparing a few things in advance. (Ina's an expert on this.) Cranberry sauce is a great make-ahead option, since you can pop it in the fridge when it's done. Ina's sauce is perfect for those who prefer tart over sweet, since it's made with both lemon and orange juice and zest.
Don't swap out regular mashed potatoes for Ina's smashed sweet potatoes just yet — because you're going to want BOTH. Ina's sweet potatoes are baked to perfection, mixed in with orange juice, cream, butter, brown sugar, cinnamon, nutmeg, salt, and pepper, then baked again until heated through.
Ina's pumpkin pie is topped with rum whipped cream. I repeat, RUM WHIPPED CREAM, made with "good dark rum, such as Mount Gay." Is it time for dessert yet?
Out of all of the green bean recipes that our food team tested these past few weeks, Ina's won out by a mile. According to Assistant Food Editor, Sheela Prakash, this recipe might sound fancy, but it's actually super straightforward and only takes 20 minutes to prepare. "They also looked the most impressive and tasted the best — the garlicky gremolata made them downright irresistible.
Read more: I Tried Ina Garten's Green Beans Gremolata
You heard it here first: Ina Garten's Perfect Pie Crust delivers on all of its promises. If you're intimidated by homemade pie crust, don't be — Ina breaks it down so that even a beginner baker will feel confident in the process. Associate Editor Meghan Splawn tested the crust out herself and agrees that this crust reigns supreme.
Read more: Who Wins the Title of "Best Pie Crust Ever"?
Your guests are likely split down the middle in terms of pumpkin versus apple pie preferences, so it's wise to have both in the mix. Fans of Ina's deep-dish apple pie call it "the best apple pie recipe ever." In Ina we trust.