Ina Garten Shares Her Favorite Summer Appetizer Recipe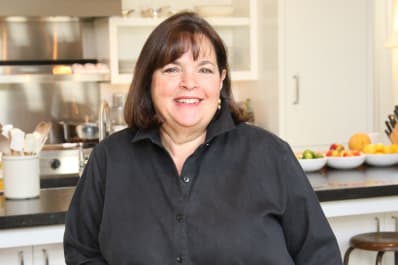 (Image credit: Talaya Centeno/Penske Media/REX/Shutterstock)
We should just refer to summer as "Tomato Season," the way people jokingly called autumn "Pumpkin Spice Season" so much that it stopped being a joke and is just the way we talk now. If fall starts when the Pumpkin Spice Lattes appear, every year I think of summer as starting when I put my first baby tomato plant in a pot on my deck and swear that this is the year I'll remember to water it.
Grocery stores stock tomatoes year-round, but there's just no comparing a freshly picked, perfectly ripe, in-season tomato with anything else. And some tomatoes are pretty easy to grow, too. I'm not great with plants, but my little patio pots always put out enough tomatoes that I could fill a kiddie pool with them and roll around like a kid in a ball pit.
That might be too many tomatoes for some people, but I think it's perfect. And there's no shortage of recipes that take advantage of great summer tomatoes, like the tomato crostini with whipped feta that Ina Garten calls the "perfect summer appetizer."
Ina's website is celebrating "Tomato Fever!" this week, with tomato and avocado salad, gazpacho with goat cheese croutons, and roasted tomato Caprese salad. This week she highlighted her whipped feta crostini.
"Tomato crostini with whipped feta is the perfect summer appetizer," Ina wrote in her newsletter. "Crisp toasts slathered with creamy, lemony whipped feta and topped with sweet ripe summer tomatoes and basil. I wish tomato season would never end!!"
To make the whipped feta, Ina mixes crumbled feta with cream cheese in a food processor and adds olive oil, lemon juice, and a bit of salt and pepper, then mixes them until they are smooth. The resulting spread is creamy, with a bright lemon flavor that goes beautifully with fresh tomatoes.
For the tomatoes, Ina uses ripe heirloom or cherry tomatoes. It doesn't matter what kind or color of tomato you use for this, as long as it's the best one you can find. She dices them and marinates them in a dressing of shallots, garlic, vinegar, and olive oil for about 10 minutes before stirring in the julienned fresh basil leaves.
This is definitely a dish to make right now. Pumpkin Spice Season is coming faster than anyone expects, but we're still surrounded by excellent tomatoes and fresh basil, and it's time to take advantage of them while we still can.
What's your favorite summer appetizer?