In a Pasta Rut? Try These Fresh & Exciting Ideas from Francine Segan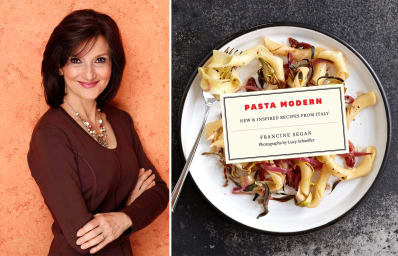 (Image credit: Francine Segan)
Has your dinnertime pasta routine gotten a little predictable? Cookbook author and food historian Francine Segan is here to help. Her new book, Pasta Modern, includes a number of unusual flavor combinations she discovered on her travels through Italy, so she seemed like the right person to turn to for advice on simple ways to make pasta fresh and exciting. From chocolate (!) to raw zucchini, here are her favorite ingredients and methods to shake up your usual pasta routine.
What are some ingredients you think cooks should be incorporating into their pasta dishes more often?
Pasta is like the little black dress! Perfect for any occasion, from casual to elegant, and it's easy to accessorize.
My favorite accessory for pasta is veggies. Just like with the LBD you can go fancy, like the showy Bucatini Dome that I learned to make at the Garofalo pasta factory in Naples or something simple like Macaroni Fritters made with cauliflower.
Vegetables are so easy to pair with pasta that you don't even need a written recipe. Just add diced raw veggies into the pot of boiling pasta for the last few minutes of cooking time. Sun dried tomatoes and even fresh or dried fruit is nice to add too. Combos like broccoli florets and sun dried tomatoes or butternut squash and dried cherries are especially fabulous together. Drain, toss with a little olive oil and grated cheese and you have a one-pot, one-dish meal.
I also love to take two zucchinis and make a healthy dish — a trick I learned in Italy . You grate them on a cheese grater, put them in a bowl and the water comes out of them. You boil the pasta and then put it back into the pot with the grated zucchini. The juice created a nice glaze and then the little pieces of raw zucchini are not really raw anymore because the water absorbs and they are so thinly grated — the flavors are magical! You can also top it with toasted nuts or put in raw garlic; you don't even have to sauté it because the heat of the pasta does a lot of cooking.
Spring Recipe: Carrot Ribbon Fettuccine

What is the most weird yet wonderful pasta combination you've ever tried?
Pasta and chocolate!
I discovered this centuries-old Italian combo from the world's first female master chocolatier, Cecilia Tessieri of Amedei. Since the introduction of chocolate from the New World into Italy in the 17th century, Italians have created many pasta desserts, with each region having its own specialty. In Umbria, for example, a traditional Christmas Eve dessert is Maccheroni Natalizia con le Noci: pasta tossed with melted chocolate and chopped walnuts, and drizzled with honey. Bolognia in Emilia-Romagna is famous for its Torta Ricciolina, fresh egg tagliatelli noodles tossed with a mix of chocolate, almonds and spices and baked in a crust.
Italians, realizing chocolate isn't sweet until sugar is added, even use it in savory pasta dishes. I have an entire chapter in Pasta Modern dedicated to this fabulously weird yet wonderful combination, like simple-to-make Spaghetti with Eggplant & Cocoa Nibs.
For someone in a pasta rut, what is your best piece of advice for shaking things up and getting excited again?
If you're in a rut, try pasta made with whole grain flour like farro or kamut. While traipsing through Italy researching pasta, I discovered Monograno Felicetti, an artisan pasta company that makes pasta with flour from these ancient grains. The pasta, so delicious it's good even without sauce, has a lovely, slightly nutty flavor and firm texture. It goes especially well with pesto: traditional basil-pine nut pesto and other combos too like the mint-pistachio, almond-tomato or an unusual lemon-avocado pesto.
Another way to shake things up is to try a new pasta shape. Italy's got hundreds of them, enough for a new shape every day of the year. Many have adorable, evocative names: elbows, butterflies, bow ties, worms, snails, ribbons, nests, ears, and wagon wheels. There are occhi di pernice ("partridge eyes") and tempestina ("little snowstorm"). And it comes in all sizes, from the teeny tiny pastina to the gigantic boccolottoni. It would take a dozen books to describe the thousands of dried pasta shapes, then another dozen volumes to so much as scratch the surface of all the homemade pasta found throughout Italy. Be creative on your pasta journey!
Kitchn supports our readers with carefully chosen product recommendations to improve life at home. You support us through our independently chosen links, many of which earn us a commission.