Our 5 Favorite Things from IKEA's Newest Collections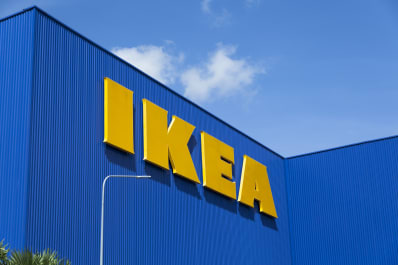 (Image credit: ben bryant/Shutterstock)
We woke up this morning to find one of the best things ever sitting in our inboxes: an email from IKEA, showcasing all sorts of new goodies. We then spent the next few minutes (okay, hours) ogling all the pretty soon-to-be-released products. (Everything should be available by April.)
Here are some of our favorites. Warning: You may want to cancel any upcoming meetings.
(Image credit: Courtesy of IKEA)
1. INDUSTRIELL Plates, $5.99 each
Don't be surprised if you start seeing a lot of our recipes shot on these dishwasher- and microwave-safe stoneware plates. They were created in collaboration with acclaimed Dutch designer Piet Hein Eek and will launch in April.
(Image credit: Courtesy of IKEA)
2. GAMLESJÖN Dual Control Kitchen Faucet, $119
With a sleek, industrial design, we love how the knobs remind us of an outdoor water hook-up. And that tall spout makes it easier to wash larger pots or platters. Bonus: It's not just good-looking — the dual-control faucet has a modern mechanism that reduces water flow while maintaining pressure.
(Image credit: Courtesy of IKEA)
3. KUNGSFORS Series, from $6
It's no secret how much we love using wall space for bonus storage in a kitchen. This new system was developed in collaboration with the Swedish top chef Maximillian Lundin — and was designed specifically for home cooks. It's a completely flexible system — made up of rails, wooden and stainless-steel shelves, storage grids, magnetic knife holders, storage containers, hooks and magnetic clips — so you can customize the perfect setup for your own space.
(Image credit: Courtesy of IKEA)
4. SKOGSÅ Countertop, $199
Our Editor-in-Chief, Faith Durand, swooned a little when she saw this end-grain countertop. "It's made with a thin layer technique where a 1/8-inch solid wood surface is placed on particleboard," the press catalog explains. "This gives a durable countertop with a high resistance to bending or cracking when humidity changes. Plus, it's easy to maintain and can be sanded down to remove any scratches or stains." It requires less raw material than a solid countertop and comes with a 25-year limited warranty.
(Image credit: Courtesy of IKEA)
5. INDUSTRIELL Chairs, $89 each
Another item from the Piet Hein Eek collaboration, these dinner chairs come in yellow, light gray-green, blue, light gray, or green-black. There's also an unpainted version for $85. Like the plates and the rest of the INDUSTRIELL line, the chairs will be out in April.