Putting Ice in Your Wine Is Totally Fine, Haters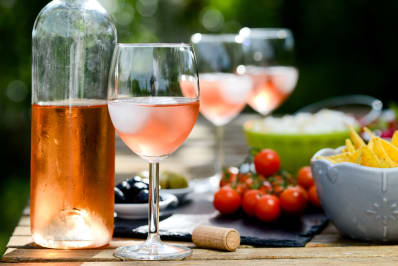 (Image credit: JP WALLET/Shutterstock)
I worked at a very fancy coffee company for years when I was younger, and it instilled in me the following two things: prescribed "good taste" in most food and beverage, and a desire for things to be particular and "correct." As in, espresso should never be served in a paper cup, steak should never be cooked more than medium-rare, and wine should never be served over ice.
I still cling to some of the lessons I learned when I was a barista, but one of the ostensibly "correct" things has gone right out the window. I now — gasp! — put ice in my wine glass, and I'm not apologizing for it anymore.
The notion that wine should only be served in particular ways was shocked out of my system one desperately hot New York City day in August 2016. I arrived at a friend's house, sweating, stressed out, and ready for a cold beverage.
"The white's only been in the fridge for a couple minutes," my friend called to me from the kitchen. "Mind if I ice it?"
Contrary to my snobbish assumptions, I didn't. I was tired; I was anxious; I wanted to decompress on a Friday night after a hot and painful week. And as it turned out, a glass of mid-range Pinot Grigio over a couple ice cubes was exactly what I needed. Reader, it tasted just fine.
What the Experts Have to Say About Icing Your Wine
The aversion to rapidly chilling your whites or rosés with ice isn't unreasonable. "It dilutes the flavor and certainly disrupts the original mouthfeel of the wine," Tracy Jenkins, beverage director at Nashville restaurant Nicky's Coal Fired explains. So yeah, if I'm going out to a gorgeous Napa winery and drinking a $20 glass of Sauvignon Blanc, I'm certainly not going to ask the somm to dilute the experience — and the flavor — by icing it down.
But the thing is, it's pretty rare that I'm drinking wine that precious; mostly I'm shopping for a max $15 bottle of something decent at the uninspiring liquor store down the street from my apartment.
"You do you!" Nathan, a bartender at Greenpoint bar Diamond Lil, said when I asked him his opinion on dropping ice cubes in your whites or rosé. "Wine is meant to be enjoyed."
Katie MacLachlan, owner of popular Nashville bar and restaurant Walden, agrees. "As with any drink, I believe that you should drink it the way you like it," she explains. "On a hot day, popping a few ices cubes in a glass of wine to keep it cool and refreshing is no crime."
Even Martha Stewart agrees. "I often put ice in my rosé," she told Jezebel earlier this year. "Just to, well first of all, keep it really cold on a hot night."
When in Doubt, Make It a Spritz!
If you're desperate for some cold wine on a hot day (or night) and don't want to plop a couple of cubes into your rosé unadorned, consider a spritz. "Rosé spritzers are pretty much all you'll find me drinking in the summer," Jenkins told me. "Half sparkling water, half wine, lots of ice and maybe a citrus peel if you're feeling fancy." MacLachlan agrees: "A great one for summer is Chardonnay, cucumber, mint, and soda … you can take it to the next level by adding a little vodka or gin."
If you know you'll be coming home with a room-temperature bottle and want to be prepared, MacLachlan recommends making ice cubes out of wine — and don't fear mixing it up, either. "Make ice cubes out of wine and then double up (rosé cubes in rosé) or mix and match (rosé cubes in Pinot Grigio). Bonus points if you freeze fruit or fruit juices in the wine cubes for an on-the-fly sangria."
Get a recipe: Aperol Spritz
Unless it's a really terrible bottle, I don't typically ice my whites or rosés if they're already chilled, but I'll be damned if I want a glass and there's a full tray of cubes at the ready. I'm not ashamed to pop open a bottle fresh from my neighborhood liquor store and pour it over a glass of ice, and you shouldn't be either. After all, it's your house, and you're your own sommelier.
Where do you stand? Do you put ice in your wine? Tell us in the comments!