The Dinner Table Is Yet Another Way We Ignore Single People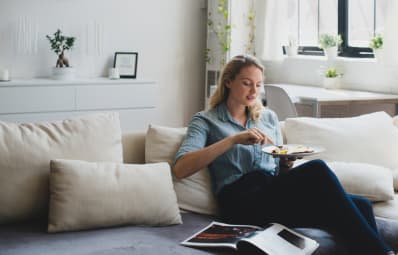 (Image credit: Lauren Naefe/Stocksy)
I've spent the vast majority of my adult life living — and eating — alone. When I first moved into my own place, I dreamt of becoming a person who ate all her meals at the kitchen table. I dreamt of replacing screen time with a book during mealtime, meditating on each and every bite. And I've tried my best to evolve into this healthier idea of a person. But it just wasn't meant for me.
Eating dinner at the table every night sounds lovely in theory, but it's rarely my mealtime reality. In fact, I can't remember a time that it ever was.
I grew up in a single-parent home, and despite my often-exhausted mother's best efforts, our family frequently resorted to eating dinner together on the couch, usually while watching one of the shows we could all agree on (Grey's Anatomy, Law & Order SVU, or House). It's a habit as an adult I've never been able to shake.
When You Live Alone, the Dining Table Is Problematic
I found that eating by yourself at a table can feel alienating, and attempting to read a book while you're ravenous with hunger isn't the easiest type of multitasking to do. Seriously, try to get through a chapter of a book in one hand while holding a fork in the other and let me know how it works out for you.
There may be benefits to sharing a meal at the table with others, but what are you supposed to do when you live by yourself? My boyfriend's home is two hours away, and when I have dinner with friends it's usually out at a restaurant. I probably eat at my table two or three times a month on average. I spend more time writing emails and on my laptop at my kitchen table than I do eating at it.
And you know what? I'm okay with that.
These days, I eat most of my weeknight meals on the couch by myself while catching up on my favorite shows on Netflix and Hulu — and I've learned to not feel shame about doing so.
My Favorite Meals for Eating Alone
Because I eat most of my meals at home by myself, I've also learned which meals are possible to eat on the couch — and which most definitely are not. Tacos are tasty but messy, and bowls of soup are too hot to hold comfortably in your hands. Anything that requires constant use of a knife is a challenge as well. The secret is finding a dish that requires the use of only one hand and one utensil to eat.
Rice bowls are your friend — like this garlicky steak and veggie bowl or this one-pan chicken burrito bowl. Just be sure to do your cutting and slicing in the kitchen before you migrate to the couch. Not even the sturdiest lap can support a plate while you slice away at a steak.
Hearty salads are another go-to dinner for me, but as a rule I always toss them with dressing before leaving the kitchen. I frequently make a variation of this recipe, topping a bed of greens with sliced pan-fried chicken breasts. I'm also a big fan of eating stuffed sweet potatoes, topped with whatever I have on hand. Some nights I load one up with black beans and avocado, while other nights I go for chickpeas and a drizzle of tahini sauce. Bonus: These dishes also double as easy recipes for one.
Another word of advice: Never forget a napkin, which conveniently doubles as a tissue the next time you're watching This Is Us while eating dinner alone on the couch.
I'm not giving up my dining room table just yet, but sitting on the couch for dinner works just fine for me.
More on Eating on the Couch from Kitchn