Hurom HH Series Premium Slow Juicer/Smoothie Maker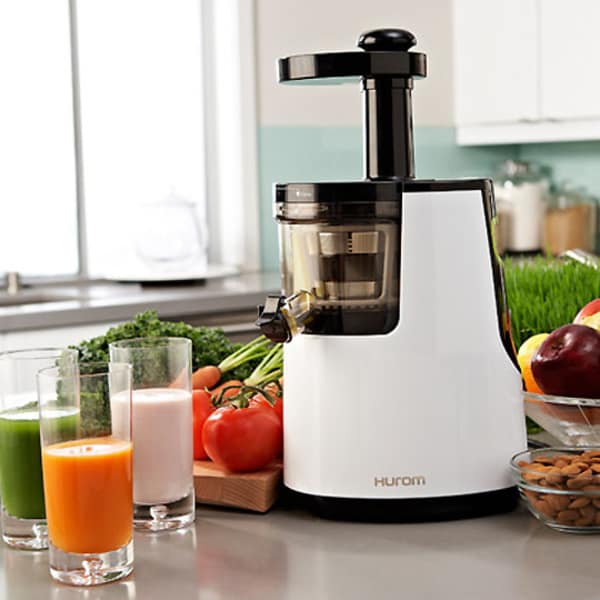 Item: Hurom HH Series Premium Slow Juicer/Smoothie Maker
Price: $399.95
Overall Impression: This excellent juicer has gotten even better.
The Hurom Slow Juicer became one of my favorite kitchen appliances a few years ago, so I was curious to test out Hurom's new Premium Slow Juicer/Smoothie Maker. Would I want to ditch the old one in favor of this latest and greatest model? And what's this about making smoothies, too...?
The Review
Characteristics and Specs: The Hurom HH Premium Slow Juicer/Smoothie Maker is a masticating juicer that can also make smoothies, soy milk, and purees like baby food. This BPA-free appliance measures 6.4 x 9.8 x 15.7 inches and weighs 14.77 pounds. Made in Korea. 150-watt motor with a 10-year warranty. Several new features have been added to the original Hurom juicer design:
Adjustable pulp control lever and juice cap
Two strainers: fine and coarse
Ounce and milliliter measurements on the side of the bowl
Nesting pulp and juice containers
Hopper lid to keep juicer clean when not in use
Self-cleaning feature
Two cleaning brushes, which are more precise than the previous one
Favorite details
: The pulp control lever and juice cap are useful for adjusting the amount of fiber in your juice, blending several ingredients at once, and cleaning the machine.
Potential problems: This appliance is primarily a juicer, and while I continue to be extremely impressed with it in this area, it's somewhat less impressive for smoothies and frozen foods.
Splurge-worthy? Yes, if you expect to make a lot of juice. I have been consistently happy with the quality of the original Hurom Slow Juicer I purchased in 2010, and I'd expect this one to be no different.
Good for small kitchens?
This has a relatively compact footprint compared to many juicers, and the nesting components are conducive to storage. It also has a handle to help move it across counters, in and out of cupboards, etc., although I find this handle to be less ergonomic than original one.
As I mentioned, I'm a fan of the Hurom Slow Juicer, and the things I love about it are also applicable to the new HH Series Premium Slow Juicer/Smoothie Maker. A masticating juicer, it slowly crushes and squeezes juice out of fruits and vegetables, resulting in a deliciously smooth juice with minimal foam. Now, with the adjustable pulp lever, you can also choose to include some of the fiber in your juice. It's quiet during operation and fairy easy to clean afterwards — this model even more so. (For self-cleaning, you close the juice cap, fill the bowl with water, and run the juicer. Manual cleaning is often still necessary, but this step helps.)
What really intrigued me was the new smoothie feature. How great would it be to make pulp-free juices, alternative milks, and smoothies in one appliance? Unfortunately, it doesn't look this will fully replace the blender. Although the juicer can process frozen fruits, yogurt, milk, avocados, and other smoothie ingredients, it's kind of fussy, especially with frozen ingredients. Smoothie components must be cut to proper sizes, added slowly, and with the proper amount of liquid or the machine can jam. It's doable, but certainly not a quick, "throw everything in and press start" experience — which is what I often want when I'm making a smoothie.
I also ran into the jamming problem a few times when making juices with the juice cap closed and/or the pulp lever set to closed. I think it's universally recommended to add juicer ingredients slowly, but it becomes especially important when the juice and pulp aren't flowing freely out of the bowl. Though not at all intolerable, the Premium Hurom's new features make it a bit finicky compared to the original model.
If you're in the market for a juicer, I'd recommend this one, even if it's more expensive than the older Hurom model. The new features are well thought out and useful. However, if you're like me and already own a Hurom, an upgrade probably isn't essential.
Related: Product Review: Hurom Slow Juicer
Apartment Therapy Media makes every effort to test and review products fairly and transparently. The views expressed in this review are the personal views of the reviewer and this particular product review was not sponsored or paid for in any way by the manufacturer or an agent working on their behalf. However, the manufacturer did give us the product for testing and review purposes.
(Images: 1. Hurom; 2-5. Emily Han)