Netflix's "Nailed It!" Is Back with Special Holiday Episodes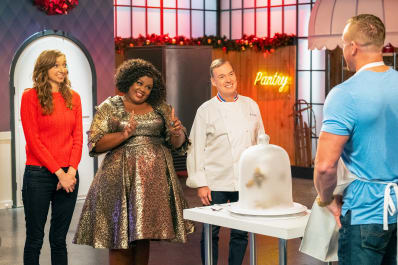 (Image credit: Courtesy of Netflix)
Nailed It! changed the game in the baking-competition genre when it premiered earlier this year, with its comedian host Nicole Byer and focus on amateur bakers who tend to have more flops than triumphs in the kitchen. Now, the series is back with an all-new holiday-themed season.
In a new clip teasing the season, Byer and her co-host, master pastry maker Jacques Torres wax poetic about how joyful the holiday season can be — mostly because of the food. Christmas cookies! Hanukkah cakes! The holidays are delicious. Except that, as Byer points, in the Nailed It! kitchen sometimes the food can be well... awful. That's just the risk you take when you invite folks who struggle to make sugar cookies onto your show and force them to create desserts that go viral on Pinterest.
The holidays aren't just about the treats though. Torres rightfully mentions that the holidays will be worthwhile and memorable as long as you spend them with the people you care about. So true, Jacques! But that doesn't mean that I'm not honestly looking forward to watching clueless bakers try to piece together (what I hope are) Santa-shaped cakes and menorah cookies. It's not that I enjoy watching people fail, but there is a certain pleasure in seeing how the everyday person (someone like you or me, let's be honest) would handle trying to create a dessert even Duff Goldman might struggle to pull off.
Holiday season on Nailed It! premieres on December 7, just when you'll be starting to feel your most festive. I highly recommend tuning in, not just to lessen the guilt you feel over that time you totally burned the cookies you were supposed to bring to Christmas dinner, but also because Torres actually brings all his wisdom (and pro tips) to the show. Yes, you may actually learn a thing or two about baking. How's that for a Christmas present you won't want to return?