How To Upgrade a Kitchen with Chalkboard Paint Meg's February Jumpstart Project 2009
Project: Kitchen Up-Grade
Name: Meg
Time: One afternoon
Cost: $10-$20
Meg's kitchen is the command center of her home, but it's rather bare and has little storage. She and her husband have been meaning to hang art, start a calendar system, and get organized, and the Jumpstart gave them just the push they needed! See how they upgraded with some simple tools, a shelf, and chalkboard paint.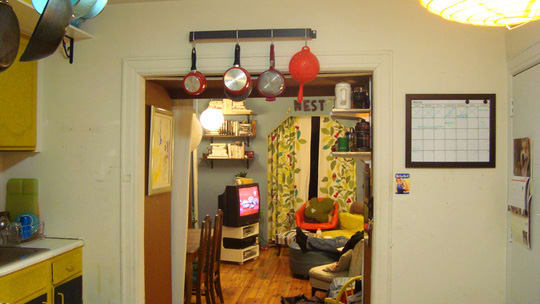 BEFORE
TOOLS:
Chalkboard paint
Paint brushes
Painters tape
Nails
Screws
Shelf
2 vintage brackets.
STEPS:
Our kitchen is HUGE but making it functional has taken a lot of planning and time. It is a large room but has little to no storage or counter space. This is also the only space where we like to have our calendar and grocery lists. So this Sunday we did a much-needed up-grade to the heart of our home.
First, I took everything off the walls. It was all a bit cluttered and didn't have a unifying design. So I took everything down.
Then I went over to the wall where we want our calendar and lists and taped the border of where we want our chalkboard paint.
I shook and stirred my paint, and gave the taped area two coats of paint.
While that was drying, I plotted out where the shelf would go on the other wall. My husband and I hung the brackets and placed the shelf on top. It is just a simple white shelf, but we used ornate black vintage brackets.
Our large Beatles piece went above the shelf, and I starting hanging the plates and other prints.
Once the chalkboard paint dried I hung our dry-erase calendar and added the finishing touches.
Our kitchen has a lot more storage space with the new shelf, and bringing the storage up frees the counter-space below. The wall by the door is now very functional and can be used to help plan our weeks out. We've been meaning to do this forever, but the Jumpstart got us going!
RESOURCES:
The vintage shelf brackets brought the shelf to a whole other level. I highly suggest this.
Give Meg a THUMBS UP if you find this project helpful!
• Want to enter your own kitchen project? You still have some time. Click through below for the entry form, and check out ideas for kitchen projects here.