How to Peel and Cut a Butternut Squash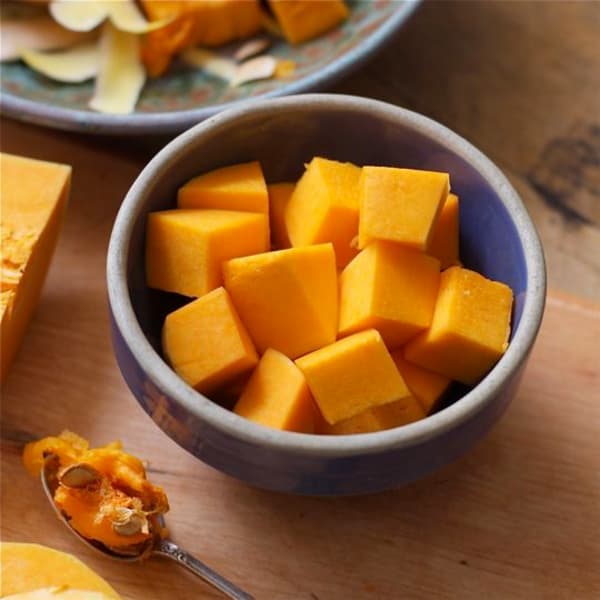 Recipes often ask us to peel and cube a butternut squash, but actually doing it can be a little puzzling. How does one coax cubes from this wonderfully curvy vegetable? Do we need to deal with the neck differently than the bulbous seed area? And what about the skins and seeds? Read on for a step-by-step guide to breaking down a butternut squash.
How To Cut Butternut Squash: Watch the Video
What's great about the butternut squash is that it's smooth skin and somewhat elongated shape make it one of the easiest squash to work with. While we peel the squash in this post, please also remember that squash skins are actually quite delicious, especially if you are roasting the squash. (The skins will not work so well if you are planning to make a puree or a pureed soup, however, as they remain crunchy.) And save the seeds, too, if you're up for roasting them!
The most important thing when working with large, hard vegetables is to be sure that you have the right equipment. This basically means grabbing the largest, sharpest knife you own since the weight and length of the knife will be doing a fair amount of work here. A flimsy or dull knife will make your life much harder and can also be dangerous since it can easily slip and cut you.
Your other important tool is a peeler, which should also be as sharp as possible. I recommend looking for peelers that have carbon steel blades as these hold a sharp edge longer than stainless steel. I like simple, cheap "Swiss" peelers. They're usually under $5 each and last a long, long time. I think the one pictured above is well over 5 years old and still going strong even though I use it several times a week. For more information, check out our roundup of our favorite peelers.
Safety is an issue when cutting up roly-poly vegetables. You will need to stabilize the squash with your non-dominate hand using the fingers-tucked-under grip (aka The Claw) to protect your fingers if your knife should slip. This post from Faith offers some good safety tips for cutting hard vegetables and and this post from Emma is also helpful with demonstrating The Claw. Both posts also emphasize that stabilizing your cutting board is an important step. Often this mean placing damp kitchen towel underneath your board to keep it from sliding around.
Finally, unless your kitchen is The French Laundry, don't get too obsessed with cutting every piece into an exact cube. The only way you can possibly achieve this is by discarding the slightly curvy, triangular pieces and that's nothing but a crying-shame waste of good food. The most important thing is that your cubes and triangles be roughly the same size so they'll cook at the same rate.
How To Peel and Cut a Butternut Squash
What You Need
Ingredients
A butternut squash
Equipment
Cutting board
Large sharp knife
Sharp vegetable peeler
Spoon
Instructions
1. Remove the ends. Place your squash on its side and slice off both ends. The safest way to slice into a butternut squash is to stabilize it with your non-dominate hand using the claw (see above) and make an initial cut into the squash to penetrate the skin. Do this with as little pressure as possible — you're not trying to hack though the whole vegetable at this point. Once the knife has made its way through the skin and no longer poses a threat to slip, you can lean heavily into it to complete your cut.
2. Peel. I like to peel my squash at this point. Place the squash on its side and run your peeler along its length. You can peel the length of the squash in long strokes or you can peel it half way up the sides and then turn it and peel the other half.
3. Cut the squash in half at the neck. The neck of the squash and the body will be dealt with slightly differently, so cut the squash where it looks like the neck ends and the body begins to curve out.
4. To cut the neck end. Cut the squash into rings as thick as you want your cubes to be. In other words, if your recipe calls for 1-inch cubes, cut the squash into 1-inch rings. Slice the rings into long rectangles and then into cubes. A few of the end pieces will be more triangular in shape, but that can't be avoided and is actually just fine!
5. To cut the body. Cut the body in half lengthwise, exposing the seeds. Using a spoon, scrape out the seeds and any stringy bits. (Save the seeds if you have ambitions to roast them.) Slice each half into strips and each strip into cubes.
(This post has been updated, originally published 10/6/08)
(Images: Dana Velden)
Kitchn supports our readers with carefully chosen product recommendations to improve life at home. You support us through our independently chosen links, many of which earn us a commission.