How To Pan-Sear Any Vegetable for a Quick Weeknight Side Dish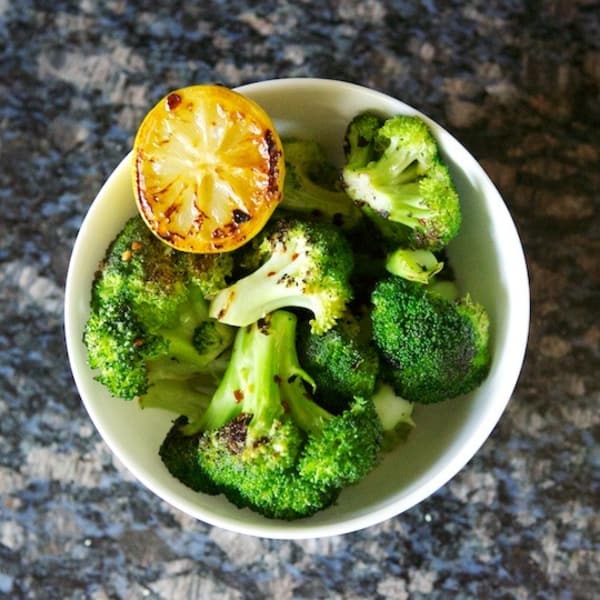 For as long as I can remember I've loved broccoli. It went with about everything...steak, chicken stir-fry, pasta, or even turkey and dressing. My mom didn't have to remind me to eat my veggies when broccoli was on the plate, and to this day, I'll eat right through a big bowl of it. Not everyone has a love affair with vegetables though. For those less enthused about nature's catch of the day, here's a quick stove-top method for turning almost any vegetable into a dynamite weeknight side dish.
My wife doesn't share my same enthusiasm for broccoli — she's one of those people who find the vegetable too bitter. But when blackened over high heat with some red chili pepper flakes, a pinch of kosher salt and a squeeze of lemon, even broccoli...or asparagus...or Brussels sprouts (ok, maybe I'm pushing it with the sprouts) is something she'll enjoy. This is how to turn up the heat.
How To Pan-Sear Any Vegetable for a Quick Weeknight Side Dish
What You Need
Ingredients
1

pound

veggie of choice — like broccoli, asparagus, Brussels sprouts, or carrots

1 to 2

tablespoons

grapeseed oil, olive oil, or other favorite cooking oil

Pinch

red pepper flakes

Kosher salt (to taste)

1/2

lemon
Equipment

Large skillet or wok

Spoon
Instructions
Rinse, dry, and chop the vegetables. Rinse the vegetables under cool water, dry them thoroughly, and then chop them into bite-sized pieces. You want a blackened, slightly charred exterior on these vegetables, so the drier the vegetable the better the crust.

Add the oil to the stir-fry pan and heat over medium-high to high heat.Add just enough oil to film the bottom of the pan with a thin coating. Since this method requires cooking at high heat, using an oil that has a higher smoke point like grapeseed oil will be best; however, olive oil will also work fine if you don't have grapeseed on hand. Just watch the temperature more carefully so you don't smoke up the kitchen.

Add the vegetables to the hot pan. When the oil begins to shimmer and you see a slight wisp of smoke, add the vegetables to the pan. Sprinkle the red pepper flakes and salt over the vegetables. Lay the lemon cut-side down on the bottom of the pan.

Cover and cook for 2 minutes, undisturbed. Cover the pan with a lid and let the vegetables cook without stirring for two minutes, until they are blackened on the underside. I'm a guy who loves to flip and stir things, but for this I have to tell myself to wait and it'll be worth it. Now's a good time to pour a glass of wine or open a beer.

Remove lid and check on the doneness. Give the vegetables a quick toss and let the other side blacken for another 1-2 minutes.

Remove veggies from pan, and finish with the squeeze of lemon. Transfer the vegetables to a serving platter or individual plates. Squeeze the blackened lemon half over the vegetables, and enjoy.
Related: How to Roast Any Vegetable
(Images: Chris Perez)