How to Make Your Own Hamburger Buns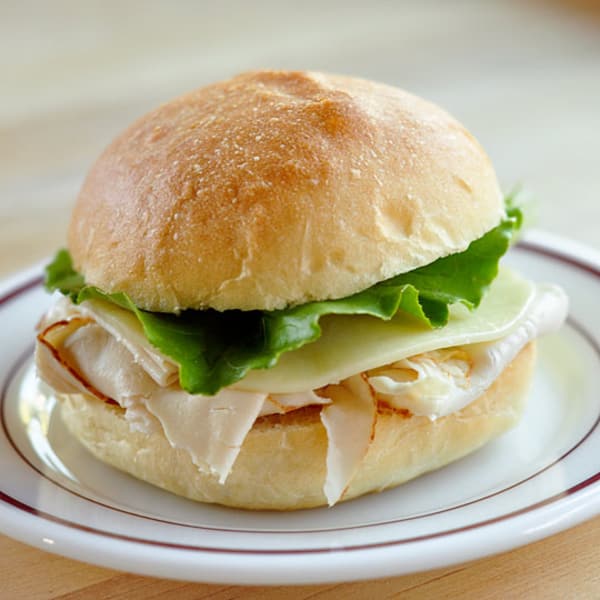 I have to apologize. See, I got so excited about the idea of homemade hamburger buns that....well, I forgot the burger. When you make these, be sure you don't do that because these soft and oh-so-fluffy buns deserve to be crowned with some mighty fine burgers.
Hamburger buns so rarely get to be the star of the show. But that's because we're usually using flimsy, texture-deprived, bland-tasting buns as a vehicle for our burger consumption. These homemade buns are anything but that.
These buns are pillow soft but with just enough chewiness to make them interesting. They taste yeasty and just slightly sweet. They'll hold your burgers, your pulled pork, and your sandwiches without blinking twice or falling apart on you. (And P.S. leftover buns make a mighty fine breakfast with a little butter and jelly.)
Hamburger buns are also remarkably simple to make at home. There's no mystery or magic to them. They are, after all, basically oversized dinner rolls. You likely have most or all the ingredients in your pantry right now, and can make a batch of fresh buns in about two hours.
Take a peek at the notes when you get to the end of the recipe, too. I have some suggestions for making Whole Wheat Burger Buns, for doubling the recipe, and for freezing buns for later.
Homemade Hamburger Buns


Makes 8 buns
1 tablespoon active-dry yeast
1/2 cup (4 oz) warm water
1/2 cup (4 oz) milk (whole, 2%, or skim)
1 large egg
2 tablespoons vegetable oil
2 tablespoons sugar
1 teaspoon salt
3 cups (15 oz) all-purpose flour
1 tablespoon butter
In the bowl of a standing mixer (or a large bowl, if mixing by hand), stir the yeast into the warm water and let it sit until dissolved.
In a separate bowl, whisk together the milk, egg, oil, sugar, and salt. Add this to the yeast mixture and stir until combined. Add all the flour and stir until it forms a shaggy dough. Knead at low speed, or by hand against the counter, for 10 minutes. The finished dough should be smooth, feel slightly tacky, and spring back when poked.
Return the dough to the mixing bowl and cover. Let the dough rise in a warm spot until doubled in bulk, about an hour.
Dust your work surface with a little flour and turn out the risen dough on top. Divide the dough into 8 pieces and shape each into a tight ball. Transfer the balls to a baking sheet and let rise until they look puffy and hamburger-sized, roughly 30-40 minutes.
Pre-heat the oven to 375°F.
Melt the butter and brush it over the risen hamburger buns. This helps the tops to brown and keeps the crust soft. Bake the buns until golden, 15-18 minutes.
Let the buns cool to room temperature before slicing and using. They are best if eaten within the next day or two, but will keep in an airtight container on the counter for up to a week.
Additional Notes:
• For Whole Wheat Buns - Substitute 1/2-1 cup of the all-purpose flour with whole wheat flour and prepare the recipe as usual. The texture of the buns will be a bit more dense, but still very delicious and burger-worthy.
• Doubling the Recipe - Double all of the ingredients except for the yeast. To make even more buns, it's best to prepare separate batches as the dough becomes too cumbersome to work with easily.
• Freeze Buns for Later - Wrap the buns in aluminum foil and then store in an air-tight container or freezer bag. Let them thaw in their packaging overnight on the counter. Foil-wrapped buns can also be thawed more quickly or re-warmed in a 300°F oven for about 10-15 minutes.
(Images: Emma Christensen)