How To Make Whipped Cream from a Can of Coconut Milk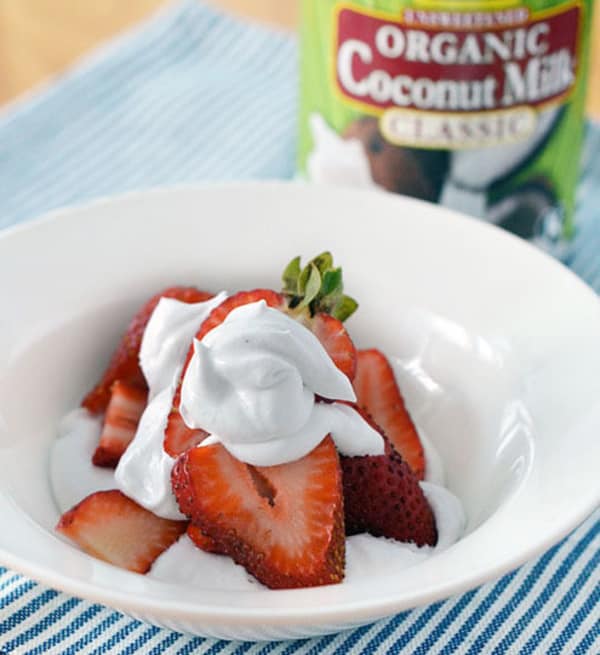 If you love having something whipped and creamy with your summer cobbler or fruit pie but are avoiding dairy, then I have a sweet little trick for you. Did you know that you can make luscious whipped cream from a can of coconut milk? Here's how!
This trick is simple: Chill a can of coconut milk, then scoop out the coconut fat that separates out and solidifies (leaving the watery liquid behind), and whip it just like whipped cream.
I first spotted this technique at Nutty Kitchen — see the post at the link below — and I just had to try it for myself!
• See full post: Coconut Whipped Cream at Nutty Kitchen
I found that this works really brilliantly; the cold cream whips up into thick yet airy whipped cream. It does taste strongly of coconut, however, as you might expect. So if you do not like the flavor of coconut, this is not for you. But if you want something creamy and non-dairy to go with a summer dessert, then this is a fantastic option. The coconut cream is naturally a little sweet, so you can leave it unsweetened. Or you can add a touch of vanilla and sugar to make it a little sweeter — up to you!
What You Need
Ingredients
One 15-ounce can full-fat coconut milk
1 tablespoon sugar or more to taste (optional)
1 teaspoon vanilla or more to taste (optional)
Equipment
Large bowl
Hand beaters or a stand mixer
Instructions
1. Place the can of coconut milk in the refrigerator and leave it there until well-chilled; I left mine in overnight.
2. Open the can of coconut milk. There will be a firm, waxy layer on top.
3. Scoop out this firm layer coconut cream that has solidified at the top of the can.
4. Stop as soon as you reach the water at the bottom of the can; don't include anything but the solid cream. (You can use the water in smoothies, or just drink it straight.)
5. Place this cream in the bowl of a stand mixer, or a large bowl.
6. Turn your mixer or hand beaters to high speed, and whip the coconut cream for 3 to 5 minutes.
7. Whip until it becomes fluffy and light, with soft peaks. Mix in sugar or vanilla, if using.
8. Serve with fresh fruit, pie, or cobbler.
Additional Notes:
• I found that this lasted well in the refrigerator for several days.
(Images: Faith Durand)