Here's How to Make That Strange Alien Milk from Star Wars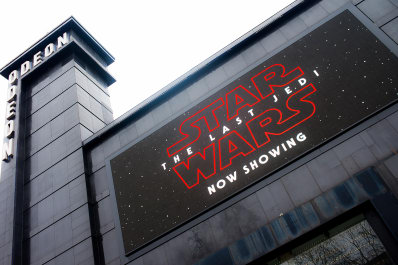 (Image credit: John Gomez/Shutterstock)
Star Wars: The Last Jedi had a lot of mind-blowing moments. The lightsaber fights! The space battles! But by far the most OMG moment in the entire movie was when Luke Skywalker milked one of the huge alien creatures hanging around his island, and drank a big glass of its green milk right on screen.
That was pretty surprising, in large part because according to Food & Wine, the Star Wars team actually built a 1,500-pound animatronic alien with an "internal milk delivery system" so green milk would come out of the creature's udders.
rian johnson built a functional thala siren (teet and all!!) that weight 3/4th of a ton and helicoptered it into ireland just so mark hamill could do this pic.twitter.com/ag8NYvDd2C

— Joon Lee (@iamjoonlee) December 29, 2017
The milking scene had people thinking a lot of thoughts — mostly "What is happening?" and "Did that alien just wink at us after he milked her?" But Skywalker certainly seemed to enjoy his green milk, and anybody who found that scene appetizing can try it now too, thanks to a new Thala-Siren milkshake recipe on the official Star Wars website.
The official recipe for Thala-Siren Milkshakes was created for StarWars.com by writer and recipe developer Jenn Fujikawa of Just Jenn Recipes, and it actually sounds delicious, if you can stop visualizing Thala-Sirens long enough to drink it.
The recipe instructs us to whip up a batch of homemade almond-flavored ice cream with green food coloring, then blend it with milk to create a refreshing, bright-green milkshake.
Fujikawa's milkshakes have a much lovelier presentation than Skywalker's milk had in the movie. Her milkshakes are served in jars decorated with white chocolate and silver sugar, and two Thala-Siren cut-outs, of course.
If the scene of Luke Skywalker milking that Thala-Siren is still too fresh in your memory to enjoy one of these milkshakes, the Star Wars website actually has a bunch of other official Star Wars-themed recipes to try. There's "Jabbacado Toast," a BB-8 Affogato, and even a tray of Porg Chops, which are far too cute and heartbreaking to eat.
Would you drink a Thala-Siren milkshake?