How To Make Slow Cooker Fajitas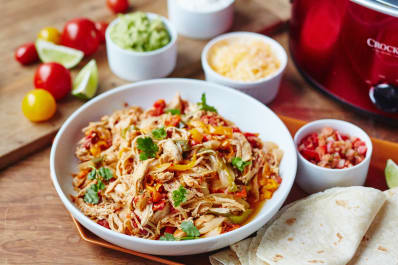 (Image credit: Lauren Volo)
Have you ever been in a restaurant and watched a sizzling platter of fajitas whiz by your table, turning heads as it makes its way to its lucky recipient? That dinner is an attention grabber. Now imagine perfuming your house with the same enticing smells and enjoying fajitas that are full of rich tomato flavor and spiced with cumin and chipotle without having to turn on the stove. That is the joy of slow cooker chicken fajitas. They start with a few chicken breasts, canned tomatoes, and spices you probably already have, and are completely hands-off. Here's how to make chicken fajitas in the slow cooker, a tempting alternative for Taco Tuesday.
(Image credit: Lauren Volo)
Everything You Need to Know About Making Chicken Fajitas in the Slow Cooker
Usually chicken fajitas are made by marinating chicken breast in warm spices and then quickly searing them on a hot cast iron pan or grill. They can be fast to make, but also require hands-on cooking, which isn't always the option you need. Slow cooker chicken fajitas are completely hands-off, save for opening a few cans and chopping some peppers, onions, and garlic. They can be left unattended for hours while the chicken marinates and cooks at the same time.
Cook the chicken in a flavorful liquid.
Combining canned tomatoes, chipotle peppers in adobo sauce, and a few spices makes for a incredibly flavorful liquid for slowly cooking the chicken. You could easily use your favorite jarred salsa in place of the canned tomatoes, too.
Layer the ingredients to avoid overcooking vegetables.
Line the slow cooker with half of the tomato mixture and then add the chicken breasts. The remaining tomato mixture and the sliced vegetables go on top of the chicken so the chicken is closer to the liquid that accumulates during cooking and the vegetables steam rather than braise in the slow cooker.
Shred the cooked chicken.
One of the benefits of using the slow cooker for fajitas is that there is no need to cut the raw chicken before cooking, as the chicken breast shreds easily when it is done cooking. The easiest way to shred the chicken is right in the slow cooker's crock with two large forks.
(Image credit: Lauren Volo)
Why Chicken Breast Makes Better Slow Cooker Fajitas
Fajita means "little belt," a reference to the dish's traditional use of skirt steak. Chicken breasts make for better fajitas than chicken thighs, as the breasts are leaner and have a natural grain closer to steak than thighs. More often than not, I prefer chicken thighs, but in these slow cooker fajitas, chicken breast gives the tacos more texture and makes for a juicy finished fajita.
(Image credit: Lauren Volo)
3 Ways to Serve Chicken Fajitas from the Slow Cooker
Traditional
Fajitas are commonly served on warm flour tortillas with sour cream, but feel free to add your favorite salsa, cilantro, or even cheese.
Bowl
We often turn these slow cooker chicken fajitas into a sort of burrito bowl by adding the cooked chicken mixture to a bowl of brown rice and topping with sour cream, but any cooked grain would do.
Salad
Top a hearty lettuce like chopped romaine with this chicken mixture and finish with chopped cilantro and extra lime wedges for dressing.
Need faster fajitas? Try these: Sheet Pan Chicken Fajitas
How To Make Slow Cooker Fajitas
Serves 6 to 8
What You Need
Ingredients
1

(15-ounce) can diced tomatoes

1

canned chipotle pepper in adobo sauce, finely chopped

3

cloves

garlic, minced

1

teaspoon

ground cumin

1/2

teaspoon

smoked paprika

1/2

teaspoon

kosher salt

1/4

teaspoon

ground coriander

2 1/2

pounds

pounds boneless, skinless chicken breasts

3

medium bell peppers, thinly sliced

1

large sweet onion, thinly sliced

2

tablespoons

freshly squeezed lime juice
Options for serving:

Warm flour tortillas

Sour cream

Cheese

Lettuce

Lime wedges

Salsa

Guacamole
Equipment

Measuring cups and spoons

Chef's knife

Cutting board

Medium bowl

Spatula

6-quart or larger slow cooker

2

large forks
Instructions
Make the tomato mixture: Place the tomatoes, chipotle pepper, garlic, cumin, paprika, salt, and coriander in a medium bowl and stir to combine.

Layer the ingredients in the slow cooker: Spread about 1/2 of the tomato mixture onto the bottom of a 6-quart or larger slow cooker. Add the chicken breast in a single layer. Top with the peppers and onion, the finish with the remaining tomato mixture.

Slow cook: Cover and cook until the chicken is pull-apart tender, 6 to 7 hours on the LOW setting, 3 to 4 hours on the HIGH setting.

Shred the chicken and add the lime juice: Use 2 large forks to shred the chicken breasts right in the slow cooker. Add the lime juice and stir to combine.

Serve: Serve with warm tortillas, guacamole, and sour cream, or other desired toppings.
Recipe Notes
Gluten-free: To make this dish gluten-free, look for wheat-free canned chipotles in adobo sauce, and serve with corn tortillas.
Storage: Leftovers can be stored in an airtight container in the refrigerator for up to 5 days.