How To Make Light And Fluffy Pancakes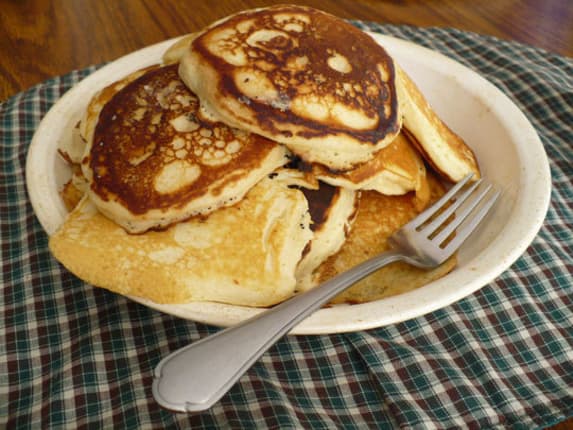 We've survived this week's blizzard without a single snow day, but we almost wish we were stuck at home with a fresh batch of homemade pancakes right about now. We'll just have to wait for the weekend. For this recipe, we're keeping it simple – no unusual ingredients or fancy add-ins. Just the basics for a fool-proof stack of light and fluffy pancakes.
Last week, Faith reviewed Amanda Hesser's New York Times recipe for Heavenly Hots. These sour cream-filled pancakes with a thin, crepe-like batter were a departure from the fluffy buttermilk pancakes she and her husband usually make.
For me, it's sort of the opposite. I grew up eating very thin Swedish pancakes, which are also pretty similar to crepes. They're a great treat when my mom is manning the stove, but I don't quite have the patience for them myself. Instead, I've started to gravitate toward pancakes of the thicker, fluffier variety.
This recipe for Wayne's Feather Pancakes is all about light and fluffy. Thanks, in part, to a generous addition of baking powder – 4 tablespoons! You can add in chocolate chips or berries if you like, but for this how to, we've kept it simple. The recipe serves 4.
What You Need
Ingredients
2 cups flour
4 tablespoons sugar
4 tablespoons baking powder
1 teaspoon salt
2 eggs
2 cups milk
4 tablespoons cooking oil
2 tablespoons butter
Equipment
Mixing bowl
Measuring cups and spoons
Electric mixer OR whisk
Griddle OR skillet
Spatula or pancake turner
Oven-safe serving dish
Instructions
1. Assemble your ingredients and equipment. Preheat oven to 200.
2. In the mixing bowl, combine the flour, sugar, baking powder and salt. Mix with a whisk or mixer attachment.
3. Add the eggs, milk and cooking oil to the dry ingredients.
4. Mix until the ingredients are just combined. It's OK if the batter is a little lumpy. You don't want to over mix.
5. Heat your griddle or skillet over medium heat. Melt 1 tablespoon of butter on the griddle.
6. Pour spoonfuls of batter onto the griddle. Try to keep the pancakes between 2 and 3 inches in width and leave at least 1 inch in between. This batter is quite thick, so it won't spread much once you pour it onto the griddle.
7. When you see bubbles begin to form on the top of the pancakes, it's time to flip them.
8. The second side always cooks faster than the first, so they'll probably only need a minute to finish cooking.
9. Place the finished pancakes on the oven-safe serving dish. Keep them warm in the oven while you cook the next batch.
10. Repeat the process until the batter is finished (adding the remaining butter to the griddle if necessary) and all the pancakes are cooked. Serve.
11. Top pancakes as desired and dig in. We like a little butter and some blueberry maple syrup (stay tuned for the recipe).
12. Repeat until pancakes are all eaten and bellies are full.
(Images: Joanna Miller)