How to Make Harissa Paste at Home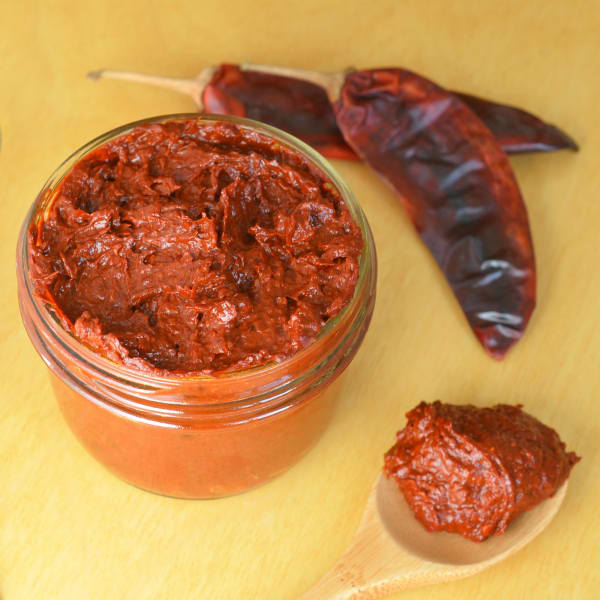 Move over, ketchup and Sriracha! When it comes to versatile red condiments, harissa is my absolute favorite. This Tunisian chile sauce is a fantastic shortcut to spice up a meal and can be used with everything from meat to vegetables, couscous, roasted potatoes, scrambled eggs, as a dip for bread ... the list is truly endless.
I first encountered
harissa
in England and France, where it's often sold in tubes, jars, or cans. Then one day last year, I traded for a jar of homemade harissa at a
food swap
. It was so much better than the store-bought versions, and ever since then, I've made my own. Each batch is a little different, depending on my mood and the type of chiles I have on hand. It's fun to play with different variations — some super spicy, others more sweet, smoky, earthy, or fruity depending on the peppers.

To make harissa, the chiles are blended into a thick paste with garlic, olive oil, and aromatic spices such as caraway and coriander (I like using cumin, too). Again, you can make it your own by adding a squeeze of lemon, herbs like mint, or even incorporating tomatoes or bell peppers. Or just keep it simple.

Use the sauce in traditional Tunisian and Moroccan dishes, or go wild and spread it on your pizza, hot wings, sandwiches, and more. I love tossing it with roasted carrots, adding a dab to salad dressing, and making harissa-spiked hummus.
How do you use harissa in your cooking?
How to Make Harissa
Makes about 1 cup
What You Need
Ingredients
4

ounces

dried chiles of your choice (see Recipe Notes)

1

teaspoon

caraway seeds

1

teaspoon

coriander seeds

1

teaspoon

cumin seeds

3 to 4

cloves

garlic, peeled

1

teaspoon

kosher salt, or to taste

2

tablespoons

extra virgin olive oil, plus more for storing

Optional additions: fresh lemon juice, preserved lemon, fresh or dried mint, fresh cilantro, sun-dried tomatoes, tomato paste, cayenne, paprika
Equipment

Heatproof bowl for soaking chiles

Skillet for toasting spices

Spice grinder, coffee grinder, or mortar and pestle for grinding spices

Knife for stemming and seeding chiles

Gloves for stemming and seeding chiles (optional but recommended)

Food processor or mortar and pestle for mixing paste

Airtight jar for storage
Instructions
Soften the chiles. Place the chiles in a heatproof bowl and cover with boiling water. Let stand for 30 minutes.

Toast the spices. While the chiles are soaking, toast the caraway, coriander, and cumin in a dry skillet over low-medium heat, occasionally shaking or stirring to prevent burning. When the spices are fragrant, remove them from the pan.

Grind the spices. Grind the spices in a mortar and pestle, spice grinder, or coffee grinder.

Drain the chiles. Drain the chiles, reserving the liquid for step 7.

Stem and seed the chiles. Remove and discard the stems and seeds from the chiles. (Wearing gloves is optional but recommended to protect your hands.)

Combine the chiles with spices, garlic, and salt. Combine the chiles, ground spices, garlic, and salt in the bowl of a food processor. (You can also use a mortar and pestle.)

Make a paste. With the food processor running, slowly drizzle in the olive oil and process to form a smooth and thick paste. Scrape down the sides of the bowl occasionally. If a thinner paste is desired, blend in a little of the chile soaking liquid until the paste has reached your desired texture.

Taste and adjust seasonings. The flavor of the harissa will deepen over the next day or two, but you can taste it now and add more salt or other optional ingredients to your liking.

Top with olive oil and store. Transfer the harissa to a jar and cover the surface with a thin layer of olive oil. Cover the jar and refrigerate for up to a month, adding a fresh layer of olive oil on the top each time you use the harissa.
Recipe Notes
Chiles: Use any chiles you like and have on hand, either a single kind or a combination. For moderately spicy harissa, try a mix of Guajillo and New Mexico chiles. Add heat with Arbol or Puya chiles. Add smokiness with Chipotle or Morita chiles. Add richness with Ancho, Mulato, or Pasilla chiles. For a very mild harissa, use roasted red bell peppers.
To substitute fresh chiles: Use twice as many fresh as dried (e.g., 8 ounces total fresh instead of 4 ounces total dried). You can also use a mix of fresh and dried chiles.
Want more smart tutorials for getting things done around the home?
See more How To posts
We're looking for great examples of your own household intelligence too!
Submit your own tutorials or ideas here!
(Images: Emily Han)