How To Make Flavored Salts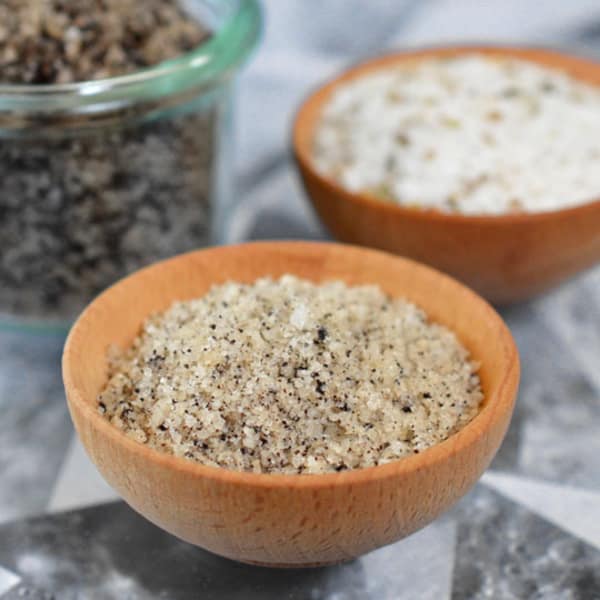 From the ingredients you use to the foods you put them on, flavored salts are wide open to your imagination. Start with a flaky salt, add herbs, spices, or other ingredients, and you have a quick, unique way to season everything from sliced tomatoes to chocolate cakes. They make wonderful edible gifts, too.
Here's a step-by-step recipe with basic ratios to get you started, plus tips for how to use seasoned salts, and a few of our favorite ingredient combinations.
What You Need
Ingredients
Basic formula: Start with a ratio of 1 teaspoon flavorings per 1/4 cup salt. Increase flavorings to taste.
Salt: Coarser, flakier salts are preferable for their texture and appearance. Try kosher salt (least expensive option), Maldon salt, or fleur de sel. If all you have is regular table salt, you can use that with a higher proportion of flavorings.
Flavorings: Use your imagination! Think herbs, spices, chile peppers, citrus peel, edible flowers, tea leaves or powder (matcha), mushrooms, dehydrated fruits and vegetables (garlic, onions, tomatoes). Flavor ingredients should be dry in order to prevent clumping; see instructions below.
Equipment
Measuring cups and spoons
Oven / food dehydrator (optional)
Mortar and pestle / coffee or spice grinder / food processor (optional)
Baking sheet (optional)
Airtight container
Instructions
1. Prepare flavorings: Ingredients should be dry and small (ground, chopped, flaked).
If necessary, dry ingredients in the oven at a low temperature (150-200°F) or in a dehydrator.
• Fresh herbs may be air or oven dried, dehydrated, or microwaved.
• Citrus such as lemon, orange, and lime may be grated or peeled into strips before drying in the oven or dehydrator. You can also use whole, dried citrus slices.
• Instructions for oven drying fresh mushrooms may be found here.
2. Combine flavorings and salt: Start with 1 teaspoon flavorings and 1/4 cup salt. Combine using your fingers, a mortar and pestle, or pulse in a coffee or spice grinder or food processor. Mix well but avoid pulverizing the salt. Taste and increase the amount of flavorings, if desired.
3. Store: Store salt in an airtight container. Ideally, let it sit at least a day before using. Intensity of flavor will diminish over time, but it can last for up to a year.
4. Use: The potential uses are endless! Try sprinkling flavored salts on...
• Avocado toast
• Brownies
• Fruit salad (just a little bit!)
• Fried foods like tempura and french fries
• Grilled meats
• Poached or scrambled eggs
• Popcorn
• Fresh ricotta or baked feta (serve as an appetizer with bread)
• Rims of cocktail glasses
• Roasted vegetables
• Sliced tomatoes
• Soups and stews
Additional Notes:
A few great combinations to try:
• Chile-Lime Salt: 1/4 cup salt + 1 teaspoon red pepper flakes + 1 teaspoon dried lime zest + 1/4 teaspoon smoked paprika
• Citrus-Rosemary Salt: 1/4 cup salt + 1/2 teaspoon dried lemon zest + 1/2 teaspoon dried orange zest + 1/2 teaspoon dried rosemary
• Lavender Salt: 1/4 cup salt + 1 teaspoon dried lavender buds
• Saffron-Fennel Salt: 1/4 cup salt + 1/4 teaspoon saffron threads + 1 teaspoon fennel seeds
• Vanilla-Cinnamon Salt: 1/4 cup salt + seeds from 1 vanilla bean + 1/4 teaspoon ground cinnamon
(Images: Emily Ho)