How To Make Easy Pickled Red Cabbage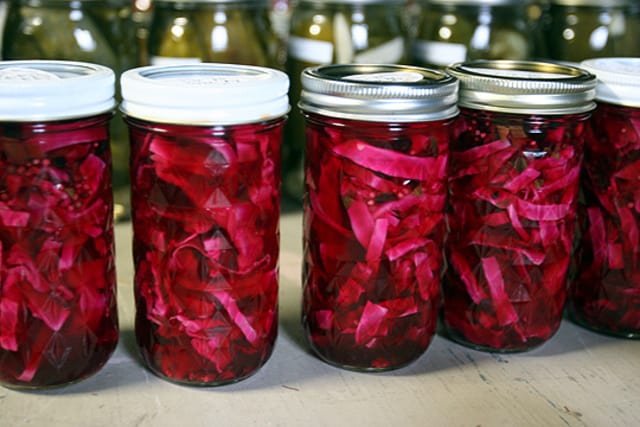 Even though it's winter, I am still canning seasonal fruits and vegetables. Home canning is not limited to only summer! I saw some beautiful red cabbage at the market, and suddenly visualized rows of jars filled with gleaming purple vegetables in my larder. I put together this very easy recipe which I'll share in this post.
What You Need
Ingredients
1 red cabbage
2 tablespoons salt
10 cups white vinegar
6 tablespoons pickling spice
Tools
Sharp knife
Cutting board
Large bowl
A plate or lid that fits inside the bowl
A large pot for sterilizing jars
8 to 10 12-ounce Mason jars with lids
Wide mouth funnel
Jar tongs
If you don't have the appropriate canning tools, check out this How To Make Your Own Canning Equipment home hack!
Instructions
1. Cut the cabbage in half lengthwise, and then cut each half into quarters. Slice off the cabbage core at an angle. Remove the outer leaves. Slice each quarter thinly.
2. Place the cabbage in a large bowl and toss with the two tablespoons of salt. Place a plate or lid on the cabbage and place a heavy weight on top of the plate to press down on the cabbage. Set aside and leave for 24 hours.
3. After 24 hours have passed, bring water in a large pot to boil. Wash the jars with hot soapy water and then sterilize the jars in the boiling water for 15 minutes.
4. Meanwhile, in a non-metallic, enamel pot, boil together the vinegar and the pickling spice. Bring to a boil and let boil for 6 minutes.
5. Pack the cabbage in the jars, leaving one inch of headroom at the top. Ladle the hot vinegar mixture over the jars. Dunk the lids in the hot water used to sterilize the jars for one minute, and then remove the lids, wipe them dry, wipe the jar rims, and seal the jars. Ready to use after 6 days.
Related: How Easy a Pickle Can Be: The Zuni Pink Pickled Onions
(Images: Kathryn Hill)