How To Make Croutons for Soups & Salads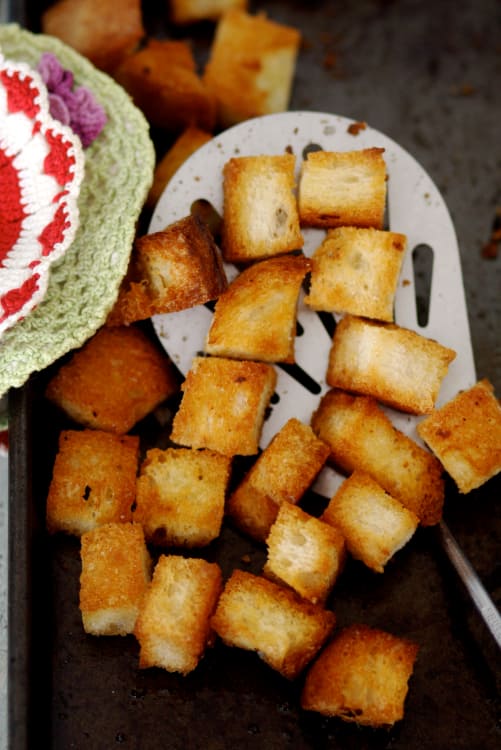 What, make my own croutons? Can't I just buy them in a cellophane bag at the grocery store? Well, sure you can and they might even be somewhat decent. But homemade croutons take things to whole other level, and given how quick and easy they are, there's no reason not to step up and make them yourself. Read on for our simple instructions on how to make three variations on the crouton: the cube, the slice, and the chunk.
Croutons are pieces of bread that have been toasted, either in a frying pan or the oven, until they are crisp and golden brown. They can be tossed into green salads, sprinkled on top of soups and casseroles, crushed over cooked vegetables such as asparagus or broccoli, and used as the base for stuffings or savory bread puddling.
While you can purchase them already made at the grocery store, there is still something special about making them yourself. They will always be fresher, for one, and you can control the salt, type of fat, and flavorings based on what you plan to use them for. The recipe is simple, basic, and quick once you understand a few principles:
What kind of bread should I use?
It's best, but not 100% necessary, to use slightly stale bread for your croutons. In fact, croutons are an excellent way to use up any leftover bread. But if you have only fresh bread, that's OK, too. You can use white, whole wheat, levain, etc. Personally, I don't like to use sandwich bread because I find it to be sliced too thin, with a texture that's too soft and too finely crumbed. A rustic, handmade-style loaf is usually the best.
Should I trim the crusts?
It's up to you. I usually leave the crusts on since there is so much flavor there already. The exception is when I get to the heel of the bread where it's almost all crust. Then I shave off a little with my knife.
Here we have a trio of nicely browned croutons: a thin French crouton, a craggy rustic crouton, and a neatly cubed crouton.
What about size and shape?
Again, it's up to you. Think about what you are using the croutons for and adjust accordingly. Classic French croutons are thin slices that are usually cut from a stale baguette and are floated on top of soup or used beneath savory meats. Most Americans are used to croutons being more cube shaped. I like a more rustic look so I pull my bread into marble-sized chunks. This method also produces a crouton with many craggy, uneven bits that will add texture to your dish. Some people prefer the neater approach and cube their bread; one-inch cubes are an average size.
Butter or olive oil?
Either one is fine. A combination of both at a 50:50 ratio is not uncommon. A lot depends on what you are using the croutons for. For example, with a salad, olive oil is usually best; for a creamy soup, butter is a better match. Butter does burn more easily than olive oil, so you'll need to keep a close watch if you use it.
Can't I sauté croutons on the stove top?
Sure! I like to use the oven because it's almost totally hands-free. But if you want to use a frying pan on the stove top, be sure to stir and toss the bread frequently so all sides become crisp and golden. You may need a little extra fat as well.
What about herbs? Garlic? Parmesan?
All these things are excellent additions to croutons. See recipe notes for adding them.
How To Make Croutons
Makes about 3 cups of croutons
What You Need
Ingredients
A partial loaf of slightly stale bread (about 1/2 pound)
1/4 cup of olive oil or melted butter or a combination of the two
Salt
Optional flavorings:
1 clove of garlic
1 teaspoon dried herbs such as oregano, basil, or thyme OR
1 tablespoon fresh herbs, finely minced
1/2 cup freshly grated parmesan
Equipment
Knife and cutting board
Small bowl
Pastry brush
Baking tray
Instructions
Prep the bread. Preheat the oven to 375°F. Prep the bread according to the kind of crouton you need: thinly slice a baguette into 1/4- to 1/2-inch slices for French croutons; pull rough pieces from a loaf of bread for rustic croutons; or using a knife, cube slices for more uniform bread cubes.

Place on baking tray. Drizzle a little of your fat of choice onto your baking sheet. Add your bread, bunching it close together in a single layer. Drizzle remaining fat on top, add a heavy pinch of salt, and toss lightly to coat. Spread the croutons out so that they are no longer touching.

→ Note: For the flat French croutons, simply brush each side with the fat.

Bake in the oven. Place the baking sheet in the oven and bake for about 5 minutes. Remove the tray, carefully toss and stir croutons (or turn over the French croutons). Bake another 5 minutes and check for doneness. Depending on the size of the bread and how browned you want them, they may need another 5 minutes or so.

Cool and store. When the croutons are done to your liking, remove them from the oven and cool on the pan. If not using right away, store croutons for a few days in an airtight container.
Recipe Notes
For garlic croutons, finely grate 1 clove of garlic using a microplane straight into the olive oil or melted butter a few minutes before using. If you can do this several hours in advance so that the garlic really infuses the fat, even better. Just be sure the garlic is very finely grated. If you don't have a microplane, use a garlic press. If you don't have a press, just be sure you mince the garlic as finely as possible. This is to avoid charred bits of garlic on your croutons, which will taste burnt and acrid.

For herbed croutons, sprinkle on your dried herb of choice when adding the salt. For fresh herbs, add them when tossing after the first 5 minutes of baking.

For parmesan croutons, add the parmesan when tossing after the first 5 minutes of baking.
Want more smart tutorials for getting things done around the home?
See more How To posts
We're looking for great examples of your own household intelligence too!
Submit your own tutorials or ideas here!
(Images: Dana Velden)
Kitchn supports our readers with carefully chosen product recommendations to improve life at home. You support us through our independently chosen links, many of which earn us a commission.