How To Make Classic Hummingbird Cake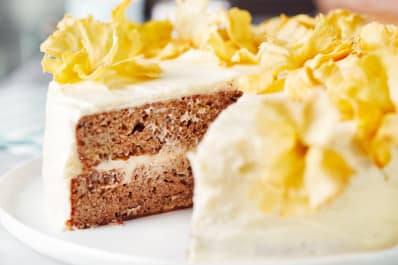 (Image credit: Lauren Volo)
Hummingbird cake tastes like it could be the love child of banana bread and pineapple upside-down cake. In this Southern classic, bananas and crushed pineapple moisten a spiced cake sweetened with brown sugar and studded with pecans, and then whole the cake is coated in perfect cream cheese icing and decorated with pineapple flowers. It sounds complex, but is actually one of those perfect everyday cakes — the kind that doesn't require a mixer, can't be overmixed, and stays moist and tender for days.
You can make it from pantry and fridge staples on everyday occasions, or dress it up for a celebration. Here's how to make a classic hummingbird cake.
There Are No Hummingbirds in Hummingbird Cake
The cake takes its name from the cake's sweetness, which is rumored to attract hummingbirds by aroma alone. This cake also has Jamaican roots — where it was called a Doctor Bird Cake — and was brought to the U.S. through tourist promotions in the 1960s. The recipe was made famous by Mrs. L H Wiggin when her recipe was published in a 1978 issue of Southern Living magazine, although variations on the cake had been baked around the South for years before.
What Makes This a Classic Hummingbird Cake?
Mashed overripe bananas, canned crushed pineapple (juice and all), plus buttery, crunchy pecans are the basic components of a classic hummingbird cake. Brown sugar and fragrant cinnamon are included as a nod to the cake's reputation for sweetness and aroma, as well as a nod to its place of origin.
The gilding of the lily is, no doubt, the sumptuous cream cheese icing, which lends even more moisture to the dense cake and balances the cake's sweetness with its signature tang.
This recipe was passed down to me by my husband's paternal grandmother, born and raised in North Carolina. I have no doubt that MawMaw Betty clipped and used the original recipe and adapted it as her own. This recipe calls for a little more sugar than the original and less oil. I've since swapped half of the white sugar for brown sugar, making for a cake with a slightly browner hue and more complex sweetness.
There are some hummingbird cake recipes that call for a stand or electric hand mixer, but I believe those tools are counter to the cake's humble beginnings and so this classic is mixed by hand. The original Southern Living cake called for the batter to be baked in three layers, but, as few of us keep three cake pans in our kitchens, this cake calls for just two.
5 Key Points for Successful Hummingbird Cake
Understand the mixing method: Hummingbird cake is mixed via the muffin method rather than the cake mixing method like its quick bread relative, banana bread. There's no creaming of butter and sugar (the cake uses oil) and instead the wet mixture of oil, eggs, mashed bananas, and pineapple is folded into the flour mixture.
Don't overmix it: Hummingbird cake is best when the portion of moist fruit is almost higher than the cake's flour content. With its high oil and fruit content, hummingbird cake is almost impossible to overmix, but resist beating the batter with a stand or hand mixer and just bring the wet and dry together. The batter will get a touch more mixing when you fold in the pecans.
Fold in the pecans: No, you can't just toss the nuts in along with the other ingredients. Folding the pecans into the batter after mixing together the wet and dry prevents the dry mix from creating pockets in and around the nuts, making for a more homogenous batter and a moister cake.
Know that this cake bakes flat: Hummingbird cake is more dense than a typical white cake and usually bakes up without the hump or rounded middle of most cakes. This makes it easy-peasy to layer and frost.
You must frost with cream cheese frosting: The pretty pineapple flowers are optional, but classic hummingbird cake requires perfect cream cheese frosting. Skip the flowers in favor of toasted and chopped pecans, if desired.