How To Make Tennessee Apple Stack Cake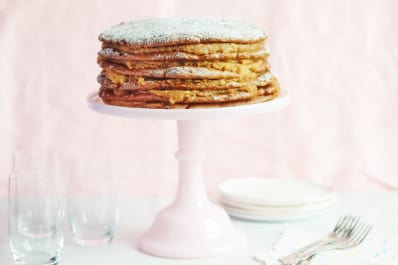 (Image credit: Lauren Volo)
If you grew up in Tennessee, you may know apple stack cake as a homey regional specialty that sometimes bears the name of the state itself, going by Tennessee Mountain Cake in some old cookbooks. If you've never been to Tennessee but love apples and cake (or both), then you really must know about this old-fashioned dessert.
Like many classic desserts, it's a labor of love, a pastime for a weekend afternoon, but once assembled, it is the kind of cake that can be enjoyed all week long. Pair it with a warm cup of coffee or tea and see how easily a conversation lingers over this homey cake.
The Lowdown on Apple Stack Cake
Apple stack cakes are dense and moist, rich with deep molasses flavor and a hearty apple flavor — worth all the quirks of their unusual assembly.
Tennessee apple cake is a unique cake: You shape and bake the layers without a cake pan so that they are dry and brittle, then moisten them back up with a dried apple filling that is both sweet and spiced. Then you wrap the cake up and wait, a day at least but preferably more, for the filling to moisten the cake layers and for the two elements of the cake to become one.
The Four Steps of Apple Stack Cake
Apple stack cake isn't a cake you make without a plan since it takes several hours of work before you even get to the assembling part. Some of this work is hands-off and you can break the prep work into two steps, accomplishing both in separate cooking sessions over the course of a day or two. Here's your apple stack cake master plan.
First, make the apple filling: Essentially you are making an applesauce from dried apples by simmering them with water and spices and a bit of brown sugar. Once they are soft and pliable, they're puréed in a food processor. No, you cannot use fresh apples and no, you cannot substitute store-bought applesauce. Trust me, I tried and I've got some tales to tell on that below. You can make the apple filling two to three days in advance, or you can make it while preparing the cake layers.
Make a cake batter and chill it: The batter for apple stack cake is pretty typical. You cream together butter and sugar, then add eggs, a flour mixture, and some buttermilk. Instead of immediately pouring the batter into cake pans, however, it's chilled so it will spread easier. That's right — I said spread!
Bake the cake rounds: Apple stack cake requires six layers and it must be dry and sturdy for assembly (it has to hold the weight of the apple filling). So the cake batter is spread into rounds on parchment paper and baked without cake pans. This makes for quicker baking and assembly and for drier, sturdier layers.
Assemble the cake and wait: Time is a key ingredient in apple stack cake. Once assembled, the cake should be wrapped to press the layers together and refrigerated for at least 24 hours. Not overnight, not 12 hours, but a minimum of 24 hours. While the cake waits, it improves greatly and will become tastier, moister, and easier to slice.
Making the Apple Filling
Apple stack cake comes out of a preservation culture of the Tennessee mountains. Traditionally, the cake would be made from apple slices that the home baker would have picked, prepped, and dried themselves. While some recipes suggest that applesauce can be a substitute for the apple filling, I suspect most of these bakers were making their own applesauce and cooked it down considerably for making apple stack cake. My attempt at an apple stack cake with applesauce disintegrated into a heap of mush before I could slice the cake.
The benefits of using dried apples are two-fold: The dried apples have a concentrated apple flavor that holds up to cooking and processing, and with considerable moisture removed before cooking, they add a rich thickness to the resulting filling. If you have any trouble finding dried apples in your local grocery store (oddly I did) check your local apple orchard or order them online.
Baking the Cake Rounds Without a Cake Pan
Baking the cake rounds is the most finicky part of apple stack cake, but having tested a few methods for baking the rounds, I can assure you that chilling the batter and then spreading it onto parchment paper is actually more fail-proof than baking the batter in cake pans or a skillet. This is counterintuitive, but baking in the cake pans during testing led to more broken cakes. Here are two ways to make baking the cake rounds without a pan faster and easier.
Use a cake pan to draw a template for the rounds: Trace around the edge of a cake pan on your parchment paper and then flip the parchment over and spread the cake into rounds.
Work one cake layer at a time: You can find a swift rhythm for spreading out the cake layers, baking one while you shape the other so that you aren't waiting in between layers or having to cram all the cakes in the oven at one time.
Assemble and Wait
Once you have a cool filling and cool cakes, it's time for assembling! Assembly is pretty straightforward: You're stacking cake layers with equal layers of filling. If you have any layers of cake that crack or break, make them one of the middle layers and repair the crack with the filling as glue.
Tightly wrap the cake and refrigerate for 24 hours. This is when the cake will transform from layers of filling and cake, rough and a bit dry, into a cake that is homogenous and moist. If you try to cut the cake before the 24 hours are up, you'll find the layers will still be a bit dry and crumble when cut.
How To Make Apple Stack Cake
Serves 12 to 16
What You Need
Ingredients
For the apple filling:

1

pound

dried unsulphured apples (4 to 5 packed cups)

1

cup

packed dark brown sugar

1

teaspoon

ground cinnamon

1

teaspoon

ground ginger

4

cups

water
For the cake layers:

5

cups

all-purpose flour

1

teaspoon

baking soda

1

teaspoon

baking powder

1

teaspoon

ground cinnamon

3/4

teaspoon

salt

3/4

cup

(1 1/2 sticks) unsalted butter, at room temperature

1

cup

granulated sugar

2

large eggs

1

cup

sorghum syrup or dark molasses

1

cup

buttermilk

Powdered sugar, for serving (optional)
Equipment

Measuring cups and spoons

Whisk

2

baking sheets

9-inch round cake pan

Marker

Parchment paper

Plastic wrap

Electric stand or hand mixer

Spatula

4-quart saucepan or Dutch oven

Food processor or blender

Offset spatula
Instructions
Cook the apple filling: Place all the ingredients in a large, heavy-bottomed pot, such as a Dutch oven. Add the water and bring to a simmer over medium-high heat. Simmer, stirring occasionally, until the apples are softened, about 5 minutes.

Cool the apple filling: Remove the pan from the heat and set aside to cool while you prepare the cake batter.

Combine the dry ingredients: Whisk the flour, baking powder, baking soda, cinnamon, and salt together in a large bowl; set aside.

Cream the butter and sugar: Place the butter and sugar in a stand mixer fitted with a paddle attachment. (Alternatively, use a large bowl and electric hand mixer). Beat on medium-high speed until light and fluffy, about 3 minutes.

Add the eggs and sorghum: Stop and scrape down the sides of the mixing bowl with a spatula. Return the mixer to medium-low speed and add the eggs one at a time, followed by the sorghum or molasses. Beat until homogenous and lightened in color, about 2 minutes more.

Add the flour, alternating with the buttermilk: Stop the mixer and scrape down the sides of the bowl. Add about 1/3 of the flour mixture, return the mixer to low speed, and mix until all the flour has been incorporated. Slowly pour in 1/2 of the buttermilk and mix until homogenous. Repeat stopping the mixer and scraping, mixing in another 1/3 of the flour mixture, then the remaining buttermilk, and finally the remaining flour.

Chill the cake batter: Transfer the cake batter to a smaller bowl, cover, and refrigerate for 30 minutes.

Process the apple filling: While the cake batter is filling, transfer the cooked and cooled apple filling into in a food processor fitted with the blade attachment or a blender. Process or blend into a thick paste, about 2 minutes. Some small lumps are okay, but the paste should be fairly smooth.

Heat the oven and make a template for the cakes: Arrange 2 racks to divide the oven into thirds and heat to 350°F. Use a 9-inch round cake pan to trace a circle onto 6 pieces of parchment paper with a marker. Flip the parchment papers over so that the marker circle is on the underside.

Spread out the batter and bake: Divide the chilled batter into 6 portions. Place 1 portion onto the center of each parchment circle. Use an offset spatula to spread the batter into a thin, even disk about the size of the circle. When you have 2 cake layers spread out, move them each to their own baking sheet. Bake until dry and set, about 10 minutes. While these 2 layers bake, spread out another 2 layers, and repeat baking and spreading until all the layers are baked.

Cool the layers: Carefully slide the baked cake layers off their baking sheets using the parchment paper. Cool completely on a wire cooling rack, about 10 minutes each.

Fill and layer the cake: Remove 1 cake layer from the parchment and place on a serving plate. Spread about 1 cup of the apple filling evenly on the cake. Stack another cake layer on top of the filling, taking care to center it. Repeat with filling and stacking the cake until all the cake layers are used. Do not put apple filling on top of the cake.

Cover and refrigerate the cake for 24 hours: Tightly wrap the stacked cake in plastic wrap and refrigerate for 24 to 48 hours before serving.

Slice and serve: Unwrap the cake and garnish with powdered sugar, if desired, before slicing and serving.
Recipe Notes
Storage: The filled and layered cake can be wrapped and stored in the refrigerator for up to 2 days. Dust with powdered sugar just before serving.