How To Make a Quick, Vegetarian, One-Bowl Meal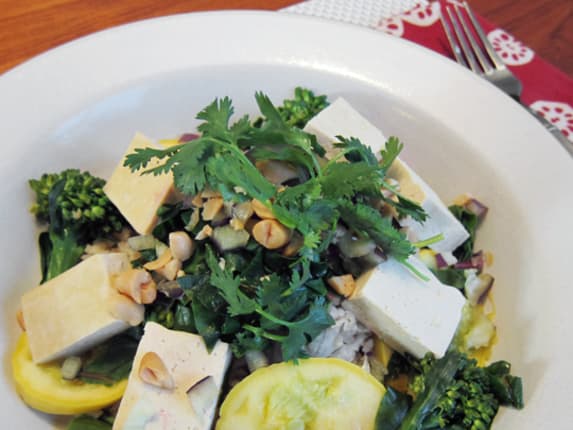 This is our go-to dish for busy weeknights. Depending on the contents of your fridge and pantry it can be made with a little planning ahead or none at all, from a large variety of ingredients or just a handful, for one person or several. Plus, it's healthful, vegetarian, and, with the right sauce, a sure-fire way to inhale a ton of vegetables.
What You Need
Ingredients
Grain + Vegetables + Protein (tofu or tempeh) + Garnishes + Sauce
Equipment
Cutting board and knife
For the grain: saucepan or rice cooker
For the sauce: blender or food processor (optional)
For the vegetables and protein: saucepan with lid and steamer basket or heat-resistant colander
Instructions
1. Cook the grain: This one-bowl meal is a great way to use leftover and reheated grains, in which case you can use any kind you like. If making it on the spot, choose a quick-cooking grain like quinoa (about 15 minutes), bulgur (about 20 minutes), or pearl barley (about 30 minutes).
2. Make the sauce: The sauce is what really makes this bowl. Whip it up while the grain is cooking, or make it ahead of time and refrigerate until needed. Here are a few good recipes:
3. Steam the vegetables and protein: Use a single vegetable or a mix – whatever you like and have on hand – plus tofu (firm or extra-firm) or tempeh. Cut them into uniform sizes to ensure even cooking. Fill a saucepan with an inch or two of water and place the steamer basket or colander inside, and bring to a boil. Layer the vegetables and protein in the basket, placing heavier, dense items (root veg, tempeh) on the bottom and lighter items (leafy greens, tofu) on top. Cover the pan, reduce heat to medium, and steam until everything is just cooked. (See How To Steam Vegetables for detailed instructions.)
4. Prepare the garnishes: Garnishes add a nice bit of color, texture, and flavor to the bowl. Try fresh herbs (cilantro, basil), nuts and seeds (peanuts, almonds, pumpkin seeds, sesame seeds), dried fruit (raisins, currants, cranberries), or chopped scallions, onions, or sweet peppers.
5. Assemble and serve: Place a scoop of the grain in the center of each bowl, arrange vegetables and protein on top, and garnish. Drizzle the sauce just before serving or let people add it themselves.
Additional Notes:
• We haven't included specific quantities here, as it's meant to serve as a general guide that you can adjust according to your preferences and needs. However, in general we suggest about 1/2 cup of cooked grain, 2 cups of cooked vegetables, 4 ounces of tofu or tempeh, a couple of tablespoons of garnish, and up to 1/4 cup of sauce per person.
• Simply steaming the tofu or tempeh is quickest, but if you have more time, you can of course marinate, bake, grill, or prepare it any way you like. See Five Ways to Prepare Tempeh and Baked Tofu for some flavorful ideas.
(Images: Emily Ho)