How To Make A Fizzy Ginger Hot Shot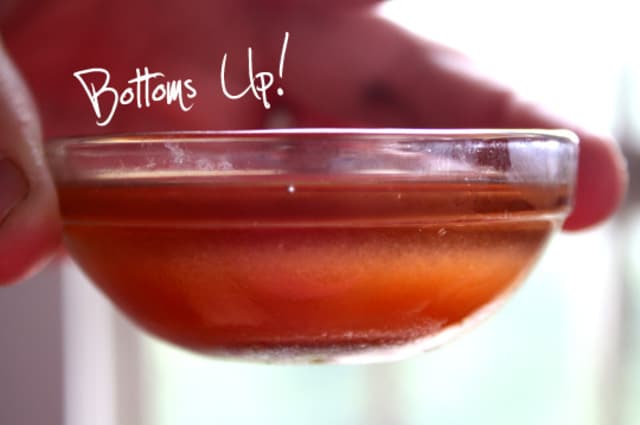 So apparently we have a thing for ginger today. Our previous "mocktail" had a bit of ginger flavor to it and this hot shot takes it to a whole new level. Although this shot doesn't contain any alcohol it can make a grown man cry as it packs quite a punch!
What You Need
Ingredients
1/2 ounce ginger ale (or ginger beer if you dare!)
1/2 ounce hot sauce (we stick with Tobasco)
Instructions
1. Add Ginger Ale: This shot is quite simple as it's only made from two ingredients, but adding them in the right order is a must. The ginger ale, or ginger beer needs to be added first to coat the glass (or in our case mini prep bowl... that's what happens when you move and haven't unpacked your kitchen yet!) so it goes down smoothly.
2. Add The Hot Sauce: Pour the hot sauce right in the middle of the ginger ale, it will sink slightly, but shouldn't stick to the glass. Use whatever hot sauce you wish, you can increase the heat of the shot by upping the intensity of the product you use.
3. Bottoms Up!: Throw one (or 5) back just like you would a loaded shot and try not to tear up or feel a little heat. It can be a little sneaky!
Additional Notes: You are certainly welcome to add alcohol to this shot if you want, though we do caution that with the heat of the overall drink, chose wisely so your digestive track doesn't suffer. Although the idea of a non-alcoholic shot seems a little silly, it's actually a rather fun and economical way to spice up a party. No one will be stumbling around or even a little inebriated, but that doesn't mean it won't make night any less fun!
• Related: Let's Do (Soup) Shots
Image: Sarah Rae Trover