Here's How to Do Thanksgiving Like Martha Stewart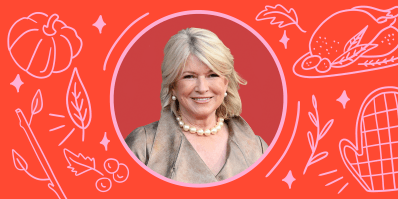 (Image credit: Design: Kitchn; Headshot: Steve Granitz/Getty Images)
Martha Stewart is an expert entertainer, so it is no wonder that her Thanksgiving tips span everything from planning to decorating, as well as recipes for the perfect mashed potatoes, turkey, and pie crust. If you've ever wanted to be the host with the most, here are Martha's top tips for Thanksgiving.
1. Get your recipes organized.
"Print, laminate, and save your Thanksgiving recipes," is what Martha would say, adding that printing duplicates makes it easy to send home favorite recipes with guests. Take this idea and modernize it by making a simple Google doc with links to the recipes or even a shared Google sheet that friends can add to and help communicate what they are bringing.
2. Utilize your expert friends.
In one episode of her television show, Martha brings on her friend Russell Crowe to talk Thanksgiving wines. Obviously we can't all dial in Crowe — but we can ask our friends who work in wine shops (or who just love wine) what to bring. Or ask your bargain-hunting friend to help you select table linens or servingware for the holidays.
3. Set your table the day before Thanksgiving.
This may feel like a given, but it's no wonder that Martha has been repeating this same wisdom for over 20 years. Setting the table the night before ensures you have everything you'll need the night before rather than an hour before guests arrive.
Read more: 10 Easy, Budget-Friendly Thanksgiving Table Ideas We Learned from Martha Stewart
4. Make a Thanksgiving day timeline.
Know when the turkey needs to come out and when the pies need to get whipped cream by planning for these steps in advance. You won't forget your green beans if you've got a timeline written out.
5. Protect your turkey with cheese cloth!
Alton Brown has his turkey triangle, but Martha cloaks her roasting turkey in a butter- and wine-soaked cheesecloth to prevent drying and make for a browner, crisper skin.
Read more: I Tried Martha Stewart's Perfect Roast Turkey (and Brine)
6. Add a little nutmeg to your mashed potatoes.
Thanksgiving side dishes have to walk a delicate balance between expected tradition and new and exciting flavors, which is why Martha isn't messing with the basics of mashed potatoes (no hidden cauliflower here) and instead she uses a deft sprinkle of warming nutmeg to bring a welcome unexpected flavor to an expected dish.
Read more: I Tried Martha Stewart's Mashed Potatoes
7. Serve one spectacular dessert.
I read this advice in an older issue of Martha Stewart Living and abide by it to this day. Instead of prepping an entire spread of desserts, focus on one gorgeous pie or cake and double it if needed. It makes your cooking life easier and keeps guests from lingering too long after dessert.