How To Freeze Bacon for Easy Cooking Later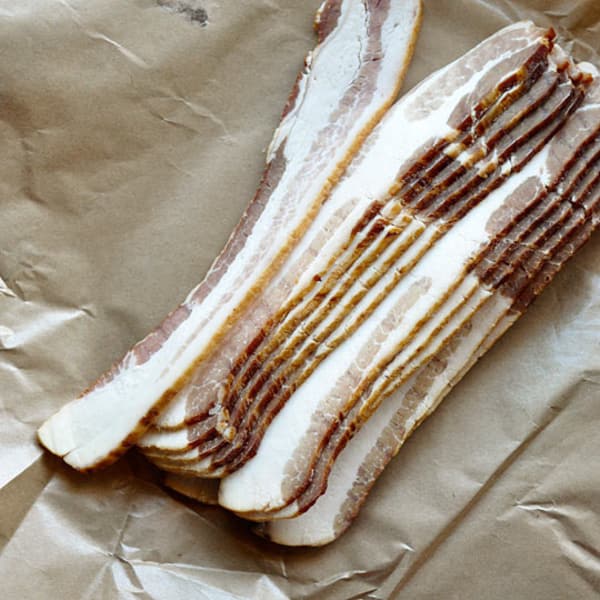 One of the very first cooking tricks I ever learned was just how much a slice or two of bacon can boost the flavor of an otherwise simple soup or braise. I was hooked from that first subtly smoky, bacon-enhanced bite. You can bet I had bacon stocked in my freezer ever after. Here's how to freeze bacon so that you can grab just a few slices when you need them.
When I'm buying bacon for cooking rather than Saturday morning munching, I spring for the really good stuff: double-smoked, thick-cut, and a good ratio of fat to meat. Check the meat counter at your grocery store — not only is this bacon sometimes less expensive than the packaged varieties, but you can get a better look at its meat-to-fat ratio and overall appearance.
If you freeze the whole package, then you're stuck with thawing (and then using) the whole package. Freezing the slices individually between layers of wax paper takes a few minutes of work at the outset, but allows you to use just a slice or two when you need them.
Take the number of slices out of the freezer when you start to prep your recipe, and they'll thaw in a few minutes at room-temperature. If your recipe calls for chopping the bacon first, I recommend doing so while the bacon is still frozen. I find that it's actually easier to cut bacon cleanly while it's still solid and cold.
How to Freeze Individual Slices of Bacon
What You Need
Ingredients
Any amount of good bacon
Equipment
Wax paper
Gallon-sized freezer bag or other freezer container
Instructions
Lay the first slice of bacon on wax paper. Lay a long piece of wax paper on your counter. Place the first slice of bacon along one edge of the wax paper.
Fold the wax paper over the bacon.
Lay a second piece of bacon over the first. The two slices will be separated by a layer of wax paper.
Fold the wax paper over the bacon. Fold the wax paper back over the second slice of bacon.
Continue piling slices of bacon and folding the wax paper over each slice. As you pile the slices and fold the wax paper over top, you'll start to form an accordion with bacon in each fold
Store in a freezer bag and freeze. Wrap any excess wax paper around the bacon and store it in a freezer bag or other freezer container. Freeze until solid and remove slices as you need them.
Want more smart tutorials for getting things done around the home?
See more How To posts
We're looking for great examples of your own household intelligence too!
Submit your own tutorials or ideas here!
(Images: Emma Christensen)