How To Crack And Eat A Whole Lobster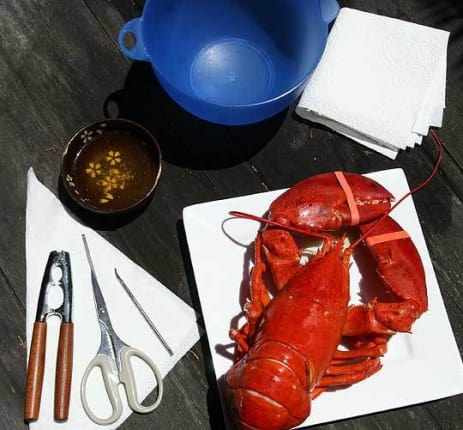 It's summertime, which means lobster prices have lowered and many people are enjoying eating these delectable crustaceans at clambakes and other al fresco situations. I just love sultry summer evenings, sitting on the back porch and digging into some freshly steamed lobster accompanied by a chilled pinot grigio, laughing with good friends. If this sounds good to you but you find the idea of eating a whole, uncracked lobster a bit intimidating, I hope the following guide will help to give you some confidence.
What You Need
Ingredients
Whole cooked lobster(s) that have been dunked in an ice bath to stop the cooking process and make them easier to handle
Small bowls of melted butter
Optional: garlic aioli
Equipment
Seafood scissors, like these
A bowl for empty shells
Plenty of napkins - this gets messy!
Sturdy seafood/nut crackers - like these
Thin metal seafood picks, like these
Instructions
1. Remove the claws by holding the lobster body in one hand and twisting the claws off the body with your other hand.
2. Separate the tail from the body by twisting and pulling them apart with your hands.
3. Don't throw out the body/head section! It has a lot of meat in it. First, pull the top shell away from the body and discard. Look inside the cavity. The green stuff is tomalley, and is edible. It's basically the lobster liver. Remove it. If your lobster is a female, you'll see black or red roe in the body cavity. It's lobster caviar and is good. If it's black, it's uncooked, so don't eat it this way. Steam it for a few minutes until it turns red, and then it's edible.
4. Pull the legs and the pale-colored spongy gills away from the body. Suck the meat and juices out of the legs.
5. Back to the body cavity: pick out the thin papery shells separating the meat, and you'll end up with about half a cup to 3/4 a cup of lobster rib meat.
6. Go back to the claws. Separate the claws at the joints to get 4 pieces. Use the crackers or scissors to remove the shell and get to the meat. I prefer the scissors as sometimes the crackers crunch the claws up into little bits that get in the meat, and I like having one big, unbroken piece of claw meat.
7. Now, work on the tail piece. First, pick off the tail flaps and suck the juices and meat out of the holes.
8. Next, extract the tail meat out of the shell in one piece. Stick your finger in the base of the tail at the smallest opening where the tail flaps were and push the tail meat out. It will look like a giant shrimp. If your lobster is a female, you'll find roe at the top ridge of the tail meat. It's delicious. However, if it's black, it's undercooked and inedible. Steam it for a minute or two to get it red, and then eat.
Additional Notes:
I prefer to do this outside, as shells and lobster juices drip and fly around. If you eat outdoors, you don't have to mop and wipe down the kitchen. But if you have to eat inside, don't eat over carpet if you can avoid it - or set a tarp down for easy cleanup.
Try to get enough tools so each diner has their own set of seafood scissors, crackers, and/or picks.
Related:
How To: Cook And Clean Dungeness Crab
How To: Clean Whole Fresh Squid
Recipe: Lobster Rolls (and Lobster Lessons)
How to Kill a Lobster (Humanely)
Recipe: Shellfish Stock
Food Science: Why Do Crustaceans Turn Reddish-Orange When Cooked?
(Images: Kathryn Hill)
Kitchn supports our readers with carefully chosen product recommendations to improve life at home. You support us through our independently chosen links, many of which earn us a commission.