How To Dry Mushrooms In The Oven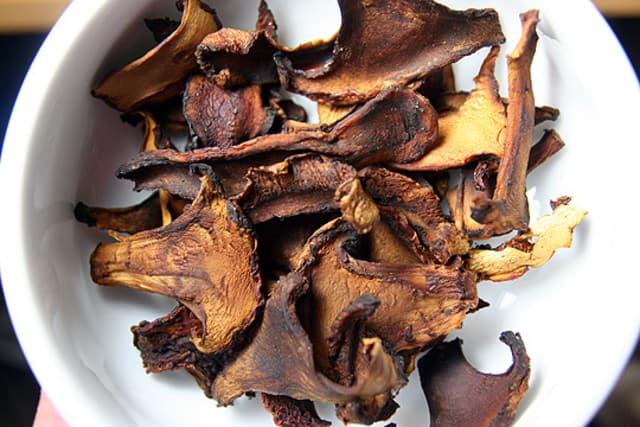 Sometimes I go mushroom foraging and pick more mushrooms than I can eat, or I find a greenmarket that is having a sale on mushrooms and I buy a lot. I cook as many fresh ones as I can, and the rest, I dry so I can use them later in soups, risottos, and many other dishes. Drying mushrooms is as easy as 1-2-3 with your oven.
What You Need
Ingredients
Mushrooms of your choice, sliced thin
Tools
Baking sheets
Sharp knife
Oven set at 150 degrees Fahrenheit
Mandoline (optional)
Food processor with slicing blade (optional)
Instructions
1. Clean the mushrooms with a brush. Try to avoid getting them wet, but if you have some stubborn dirt and must use a damp paper towel, use it sparingly. Slice them thin, about 1/8 of an inch thick. The thicker the slices, the longer they take to dry out.
2. Arrange the sliced mushrooms on baking sheets in a single layer.
3. Cook at 150 degrees for a hour.
4. Remove mushrooms from oven and turn over. Using paper towels, blot up any water that has sweated out of the mushrooms. If possible, gently press on the mushroom slices with paper towels to remove any excess water.
5. Cook for another hour.
6. At this point the mushrooms should be completely dried. If not, repeat Steps 4 and 5 until they are dry. There should be no moisture left in them.
7. Allow them to cool, and then store them in an air-tight container in a cool, dark place.
Additional Information:
• Stored properly, dried mushrooms will keep for years.
• Remember, dried mushrooms have a more concentrated flavor than fresh ones, so use sparingly.
• They can be reconstituted by adding some boiling water or stock.
Related:
Mushroom Leek Risotto
Quick Pasta with Dried Morels and Fresh Ramps
Rich No-Cream Wild Mushroom Pasta Sauce
(Images: Kathryn Hill)